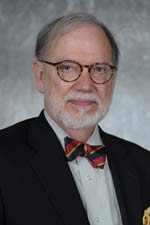 LEXINGTON, Ky.—President R. Owen Williams announced today that William F. Pollard, vice president and dean of the college and professor of English, is stepping down as vice president and dean of the college, effective July 31, 2012. After a one-year sabbatical, Pollard will return to teaching as professor of English on the Transylvania faculty.
"Bill has been a valued colleague from the very beginning of my presidency," Williams said. "While I will miss working with him as dean, I am delighted he will remain at Transylvania as a senior member of the faculty."
Pollard's areas of scholarship are English, medieval English literature and medieval theology. He has written numerous papers, essays and reviews while giving presentations at conferences in the U.S. and England.
At Transylvania, Pollard instituted a national faculty seminar on twenty-first century liberal education for invited professors at national liberal arts colleges, added 10 new faculty positions, several minors including Latin American and Caribbean studies and eight new majors: art history; biochemistry; educational studies; German studies; international affairs; music technology; philosophy, politics and economics (based on the Oxford PPE); and writing, rhetoric and communication. He established the First Engagements community book project and an opening convocation.
"I have enjoyed my tenure as dean of the college and I am proud of all that has been achieved working in concert with faculty and staff," Pollard said. "But I am excited about returning to the classroom and look forward to becoming a medievalist again."
Pollard was the recipient of the 2010 Chief Academic Officer Award given by the Council of Independent Colleges (CIC). The award recognizes his contributions to colleagues at independent colleges and universities.
As a member of the CIC Chief Academic Officers Task Force (2006-09) he helped develop programs and chaired sessions at the annual institute for chief academic officers. For over 15 years he has been an evaluator for the Southern Association of Colleges and Schools' Commission on Colleges. He is a member of Phi Kappa Phi and Omicron Delta Kappa national honorary societies, the American Conference of Academic Deans and has served as president and secretary of the Association of Chief Academic Officers of the Southern States.
Pollard, who came to Transylvania in 2004, has published on medieval English literature and is co-editor of "Mysticism and Spirituality in Medieval England" with Robert Boenig and "Vox Mystica: Essays on the English Mystical Tradition Honoring Valerie Lagorio" with Anne Bartlett, Thomas Bestul and Janet Goebel.
Prior to beginning his service at Transylvania, Pollard was provost and dean of the college and professor of English at Georgetown College and vice president and dean of the college and professor of English at Huntingdon College. He has also served in academic affairs and on the faculty at the University of Evansville and on the faculty at Belmont and Maryville colleges (Tenn.) and Oxford University. He earned his bachelor's degree from Centre College and his M.A., M.Div. and Ph.D. from Duke University. He also did post-doctoral study at Keble College, Oxford University.
During Pollard's sabbatical, he will work with late medieval English manuscripts.