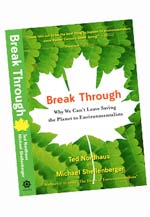 LEXINGTON, KY.—Ted Nordhaus, cofounder and chairman of the Breakthrough Institute, will give a talk titled "The Long Death of Environmentalism," at Transylvania University on Wednesday, March 7, at 7:30 p.m. The lecture, in the Mitchell Fine Arts Center's Haggin Auditorium, is free and open to the public.
The Breakthrough Institute was founded by Nordhaus and president Michael Shellenberger in 2003 to "modernize liberal-progressive-green politics," according to the website. Nordhaus and Shellenberger are the authors of the book "Break Through: Why We Can't Leave Saving the Planet to Environmentalists," and the essay "The Death of Environmentalism: Global Warming in a Post Environmental World," which triggered a national debate about the future of environmentalism.
"Break Through" was called "prescient" by Time and "the most important thing to happen to environmentalism since 'Silent Spring'" by Wired. Nordhaus has been profiled in the New York Times, Wired, the National Review, The New Republic and on NPR. In 2007, he and Shellenberger received the Green Book Award and Time's 2008 "Heroes of the Environment" award.

This lecture is part of Transylvania's William R. Kenan Jr. Lecture Series and is funded by a grant from the William R. Kenan Jr. Charitable Trust.
For more information, contact the public relations office at (859) 233-8120.