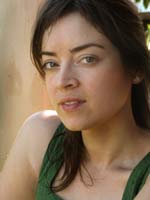 C. E. Morgan
LEXINGTON, Ky.—Fiction writer C.E. Morgan and mandolin player Ryan Blevins, of the Virginia bluegrass group No Speed Limit, will offer an evening of reading and music at Transylvania University on Tuesday, February 21, at 7 p.m., in the Mitchell Fine Arts Center's Carrick Theater. The event is part of this year's Delcamp visiting artist series. The event is free and open to the public.
Morgan's first novel, "All the Living," (2009) was a finalist for the Hemingway Foundation/PEN Award for a distinguished book of fiction. Published by Farrar Straus & Giroux, "All the Living" received outstanding reviews and the New York Times Book Review named it an Editor's Choice. Morgan also received recognition as one of the National Book Foundation's "5 Best Writers under 35" and, in 2010, The New Yorker published her story "Twins" in a fiction edition titled "20 under 40," devoted to the work of twenty important and emerging writers under the age of forty.
Morgan studied English and voice at Berea College and holds a master's in theological studies from Harvard Divinity School. She lives in Kentucky.
The lecture is sponsored by the Delcamp Visiting Writer series. For more information, contact the public relations office at (859) 233-8120.