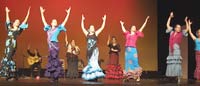 Flamenco Louisville
LEXINGTON, Ky.—Flamenco Louisville, an inclusive, participatory community of dancers, musicians, teachers and aficionados, will share their passion for the Spanish dance with the Lexington community at the "La Esencia Flamenco: Dance Across Cultures" performance at Transylvania on February 29, at 7:30 p.m. in the Mitchell Fine Arts Center's Haggin Auditorium. The performance, discussion and reception to follow are free and open to the public.
In addition to the performance, there will be a discussion and exploration of this unique art expression, including remarks from Lori Rowland Houlihan, special events liaison of the office of the mayor of Lexington; Henry Berlin, professor of Spanish at Transylvania; Transylvania religion professors Paul Jones and Carole Barnsley and author Rosie Moosnick. The speakers will discuss the various cultures and religions that influenced Spain and flamenco across centuries. An informal reception will follow the performance, during which further dialogue with Houlihan, Berlin, Jones, Barnsley and Moosnick will be welcome.  Authentic Spanish tapas and non-alcoholic sangria will be served at the reception.
Flamenco is a system of singing, music and dance with its roots in the diverse cultures of Moorish-ruled Al-Andalus (the Iberian peninsula), now known as Spain and Portugal. The many flamenco song forms, or palos, were developed and preserved in the Gitano families and communities of Southern Spain that lived on the fringes of society. It is something that, in its purest form, takes place within the family or an intimate community. Only in the last two hundred years has it coalesced into a theatrical form to be performed on stages in café settings and later in theaters.  The many flamenco palos are organized around a recognized structure that allows musicians, singers and dancers to improvise.
Through classes, performances and flamenco parties, Flamenco Louisville participants share their passion with their home community of Louisville, Ky., and communities throughout the region. The performers dedicate themselves to developing their skills as flamenco artists through intense study and practice, including travel to Spain and ongoing collaborations with fellow artists in the United States.
The event is organized by the Sigma Delta Pi Spanish honorary at Transylvania and is cosponsored by the Transylvania University Office of Diversity and Inclusion and the Lexington Fayette-Urban County Government.
For more information, contact the public relations office at (859) 233-8120.