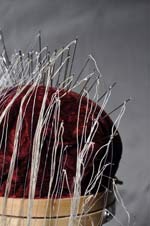 the body of, of
the body (2012)

LEXINGTON, Ky.—Transylvania University's Morlan Gallery presents "enigmatic remembrances: new work by petra carroll and rae goodwin." The exhibit, which opens Friday, Feb. 17 during Gallery Hop with a reception from 5-8 p.m, runs through Friday, March 23.
"The premise of the exhibition is investigation of the power our memories have to commandeer our perceptions," says gallery director Andrea Fisher. "The resulting work takes on a variety of media including two and three-dimensional mixed media that are often site-specific and transform the gallery space."
Working collaboratively, Carroll and Goodwin describe the ideas that motivated their latest work. "Exploration of memory is the exploration of the unknown. Each time we walk down 'memory lane' our recollections diverge and vary because we view the memory of the past from a different point in time. Our perception of the past shifts and changes as we shift and change."
Goodwin, director of foundations at the University of Kentucky, lives in Lexington and has taught at Pikeville College and Winthrop University. She ran an arts enrichment business for nine years in North Carolina. Her performance and sculptural works have been shown regionally, nationally and internationally in New Zealand, the McColl Center for Visual Art in North Carolina, Central Park in Manhattan and the Atlanta Contemporary Arts Center. She earned her M.F.A. in sculpture from Winthrop University and her B.A. degree in art from Framingham State College.
Carroll, assistant professor of art at the University of Pikeville, holds a B.A. in economics from Rutgers College and a B.F.A. and M.F.A. in studio art from Winthrop University.  Her professional experience includes banking, galley work, teaching and art.
Carroll and Goodwin will discuss the conceptual and technical developments of their work, as well as the challenges and advantages of working collaboratively, during Art Talk on Thursday, March 8, from 12:15-1:30 p.m. in the Morlan Gallery. This event is free and open to the public.
The Morlan Gallery is free and open to the public weekdays from noon-5 p.m. The exhibition is closed during Transylvania's spring break, March 11-15. For more information, contact Andrea Fisher at (859) 233-8142 or visit www.transy.edu/morlan.