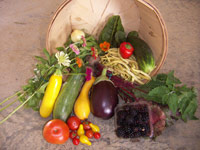 Berries on Bryan Station CSA basket.
LEXINGTON, Ky.—The Lexington community is invited to stop by Transylvania University's first-ever Community Supported Agriculture (CSA) fair Friday, Feb. 17, from 11 a.m. – 1:30 p.m. in the Glenn Building, off Old Morrison Circle.
Farmers from Berries on Bryan Station, Elmwood Stock Farm, Three Springs Farm, Triple J Farm, the Gaffney Farm, Dove's Landing Farm and Greenley Farms will be available to talk about how their CSA program works. Through the CSA Fair, sponsored by Transylvania's office of sustainability, participants will learn about this easy way for consumers to buy seasonal produce directly from local farmers. The farmers will also have a few items for sale.
Through CSA programs, customers pledge to support a farm by purchasing a "share," usually early in the year. Then, throughout the growing season, customers receive a box or basket of seasonal produce or other products from the farm. CSA programs are based on produce; occasionally eggs, meat, or dairy products are included.
"The idea for the fair was inspired by a substantial amount of conversation about local food on our campus, including a Creative Intelligence talk on January 26 by David Wagoner and Arwen Donahue of Three Springs Farm," said Angela Dossett, Transylvania's sustainability coordinator.
Marksbury Farm, Seedleaf Farm, the Good Foods Co-op, the Bluegrass Farmers' Market, the Lexington Farmers' Market, Azur Farmers' Bazaar and WLAP's Sunny Side Up will also be present at the event, which is free and open to the public.
Transylvania University affirms sustainability as a core value and integrates it into the intellectual and social life of students, faculty and staff by encouraging study, discussion, and participation in sustainable practices on campus and in the community.
For more information, contact the public relations office at (859) 233-8120 or Dossett at (859) 233-8278.