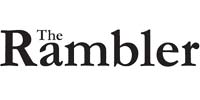 LEXINGTON, Ky.—The staff of The Rambler, Transylvania University's student-run newspaper, had its best showing ever in the Kentucky Intercollegiate Press Association's annual awards competition. The yearly competition for campus newspapers features a variety of categories designed to showcase the talent of student journalists throughout the state.
The staff brought home 30 awards, including 11 first-place honors, and-for the third year in a row-a first place for senior John Johnson in the deadline copy editing competition. Johnson bested copy editors from both the large- and small-school divisions. He has been the copy editor for The Rambler since his sophomore year. The awards were announced in Lexington last weekend during the annual gathering of student and professional journalists from across the state.
"I could not be more proud of the staffers who volunteer their time and energy every week to give their fellow students a voice on Transylvania's campus," said Terri McLean, student media adviser. "Unlike many of the other schools in the state, Transylvania does not have a journalism degree program. So they learn by doing. It's just amazing to me how well they've done."
Other notable winners included senior sports editor Abby Ferguson for her coverage of the UK-Transylvania basketball game in November. She won a first-place award for sports game story and sports headline and a second-place award for sports game story. Editor-in-chief Erin Brock, also a senior, won a first-place award for a sports column comparing the coaching styles of UK's John Calipari and Transylvania's Brian Lane.
First-place honors also went to junior Alex Cheser for general interest column; senior Andrew Williams for comic strip/panel; junior Jake Hawkins, junior Charlie Zwischenberger and Brock for continuing news; senior Katelynn Ralston and sophomore Victoria Sullivan for informational graphic; The Rambler editorial board for opinion pages; editorial board for editorial; and The Rambler staff for news story.
The staff picked up four second-place awards, including senior Mindy Borie for review; junior Molly Crain for general interest column; Ferguson for sports news story; and Hawkins for investigative reporting.
In third place were senior Holly Brown for review; Ferguson for sports feature story; Hawkins for best news headline and news story; and Ralston for photo story.
Honorable mentions went to Brock for continuing news; Ferguson for personality profile; sophomore James Huddleston for best news headline; sophomore Sally Jagielski for front page layout and sports layout; Carlos Melgar '11 for sports feature; Nadia Smith '11 for feature story; junior Laura Miller, Ferguson, Crain for continuing news; and staff for overall layout.
The Rambler publishes weekly during the academic year and covers every aspect of campus life. It competes in the KIPA's B Division for schools with 5,000 or fewer students.