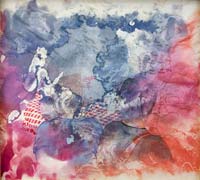 "Give It Up For The Boys" Gissette Padilla
LEXINGTON, Ky.—Transylvania University's Morlan Gallery opens 2012 with "The Millennials," a juried exhibition that  offers a visual entrée into the minds of America's largest age group, the millennial generation. The Pew Research Center has defined this group, ages 18 to 29, as "the American teens and 20-somethings currently making the passage into adulthood." They tend to be  confident, self-expressive, liberal, upbeat and receptive to new ideas and ways of living. The exhibit opens  Tuesday, January 17, and runs through Friday, February 10.
The 12 artists chosen for the exhibition represent nine states and every  region of the U. S. They are primarily in their mid-20s and submitted work in a variety of two- and three-dimensional media. The artists' reception on Tuesday, January 17, from 5-7 p.m., is free and open to the public.
The artists  are John Talbott Allen, Ky.; Jeanette Bonds, Calif.; Benjamin Cook, Ky.; Ryan Foley, Penn.; Natasha Giles, Ky.; Carl Glasemeyer, Mo.; John Haverty, Mass.; Andrea Hutchinson, Ind.; Gissette Padilla, Texas; Patrick Smith '08, Va.; Nelson Wei Tan, Ind.; and Jordi Williams, Fla.
Pieces for the exhibit were selected from an application pool of 45 national artists by Andrea Fisher, director of the Morlan Gallery, and Transylvania studio art faculty, Jack Girard, Kurt Gohde and Zoé Strecker.
The Morlan Gallery is free and open to the public weekdays from noon-5 p.m. For more information, contact Fisher at (859) 233-8142 or visit www.transy.edu/morlan.
Note: From January 17-27, "Preserved," will be on exhibit in the Susan Shearer Art Gallery in the Shearer Art Building on Fourth Street. The opening reception is Jan. 17, from 5:30-7:30 p.m. The gallery is free and open to the public weekdays from 8:30 a.m.-4 p.m. "Preserved" is an installation of memory capsules. Each memory capsule is preserved within a sealed jar and represents a person of influence who is no longer in the life of the jar's creator. For more information please visit preservedinstallation.blogspot.com