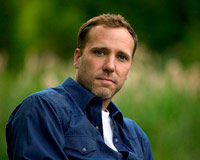 LEXINGTON, Ky.—Transylvania University has hired notable Kentucky poet Maurice Manning as professor of English. He will join the faculty full time in September; until then he will organize readings on campus during the winter and May terms.
Manning, who lives in Washington County, Ky., has published four books on poetry, including his most recent, "The Common Man," which was one of three finalists for the 2011 Pulitzer Prize in Poetry. His first collection, "Lawrence Booth's Book of Visions," was selected for the 2000 Yale Series of Younger Poets. He has had his works in publications including The New Yorker, Washington Square, The Southern Review, Poetry, Shenandoah, and The Virginia Quarterly Review.
"I am delighted to be coming to Transylvania and certainly look forward to this wonderful opportunity," Manning said. "My mother's parents were Transylvania grads, and so are some of my cousins. It feels as if I have a family connection, and the warm atmosphere of the campus makes that sense of connection all the more pleasant. I can tell good things happen at Transylvania, and I will be glad to be part of that."
Manning has taught the past seven years at Indiana University as associate professor of English and assistant director of creative writing after four years as assistant professor of English at DePauw University. He also teaches in the M.F.A. Program for Writers at Warren Wilson College. IU granted him the prestigious John Simon Guggenheim Fellowship in April 2011, and he has used the award to come back to Kentucky writing poems for a book tentatively titled "The Gone and the Going Away." He was also recently appointed to the faculty of the Sewanee Writing Conference at Sewanee in Tennessee.
"As the reviews of his books, his Guggenheim Fellowship, and his nomination for the Pulitzer prize attest, Maurice Manning has established himself as one of America's most important younger poets," William F. Pollard, vice president and dean of the college, said. "We are delighted that he will be joining us at Transylvania University and that he will be moving back to his home state of Kentucky."
Manning earned a B.A. in English from Earlham College in 1988, an M.A. in English from the University of Kentucky in 1996, and an M.F.A. in creative writing from the University of Alabama in 1999.