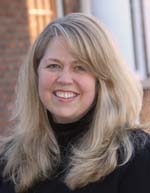 LEXINGTON, Ky.—Kara Little Covert has joined the Transylvania University alumni and development office as associate vice president for advancement. She has more than 20 years of higher education administrative experience, including her most recent position as associate vice president for development at Eastern Kentucky University.
Covert is in charge of a newly formed major gifts section that will play a key role in fund-raising efforts as Transylvania aims to expand enrollment and create new academic and student-life programs over the coming years.
"The university's plans for expansion and progress are more extensive than any we have envisioned before," Covert said. "It will take exceptional leadership from individuals, corporations and foundations to help us realize those goals."
Covert, a 1990 Transylvania graduate, feels the university's move toward becoming a somewhat larger school and enhancing its academic and campus-life offerings is in tune with the times.
"There have been points in the history of higher education when you could maintain the status quo and do very well, but we're not in one of those periods now," she said. "Partly because of economic factors, people are in a different frame of mind. You have to be that much better to even catch somebody's attention, and then make sure they believe you are an institution they can invest in wisely."
Kirk Purdom, vice president for advancement, believes Covert's experience in higher education makes her a perfect fit for her new position.
"Kara has worked in every area of development, from annual fund to major gifts, and has proven her abilities in a small college setting from her earlier work at Transylvania," he said. "Her undergraduate experience at Transylvania gives her great insight into what makes this college tick. We are delighted to have her rejoin our staff and take on this critical fund-raising responsibility."
After completing her Transylvania bachelor's degree with a psychology major and English minor, Covert earned a master's of education in institutional advancement from Vanderbilt University. She was an admissions counselor at Transylvania from 1991-93, then joined Washington University in St. Louis, working in the alumni office and the annual fund program. She returned to Transylvania in 1996 and was director of annual giving and director of development before leaving for EKU in 2003.