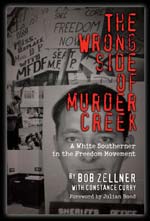 LEXINGTON, Ky.—Bob Zellner, civil rights activist and author of "The Wrong Side of Murder Creek: A White Southerner in the Freedom Movement," will speak at Transylvania University on Wednesday, February 1, at 7:30 p.m. The talk, in the Mitchell Fine Arts Center's Carrick Theater, is free and open to the public.
Zellner was born in Alabama in 1939, the son and grandson of Klansmen. After graduating from the Huntingdon College in 1961, Zellner became the first white southerner to serve as field secretary for the Student Nonviolent Coordinating Committee (SNCC). Zellner's father rejected his past Klan associations and supported his son in his civil rights efforts. Arrested 18 times in seven states, Zellner organized in McComb, Miss.; Albany, Ga.; Danville, Va.; Talladega, Montgomery and Birmingham, Ala.; New Haven, Conn.; and Boston. From 1963-65, Zellner studied race relations in the Graduate School of Sociology at Brandeis University. During Mississippi's Freedom Summer of 1964, he traveled with Rita Schwerner while taking part in SNCC's and CORE's investigation of the disappearance of her husband Mickey, James Chaney and Andrew Goodman.
When SNCC became an all-black organization in 1967, Bob and his wife, Dottie, joined the Southern Conference Educational Fund (SCEF) to organize an anti-racism project for black and white workers in the Deep South called GROW, Grass Roots Organizing Work. In the early 1990s, studying at Tulane University for a Ph.D. in history, Zellner wrote a dissertation on the southern civil rights movement. While working on the dissertation, he taught History of Activism at Rosemont College and Southampton College of Long Island University. Julian Bond, now the National NAACP Chairman and Zellner organized the National Civil Rights Coordinating Committee. Zellner works with the Eastern Long Island Branch of the NAACP and with the Southampton Town Anti-Bias Task Force.
"The Wrong Side of Murder Creek, A White Southerner in the Freedom Movement," co-authored by Constance Curry and with a foreword by Julian Bond, was published by New South Books in 2008. The Library Journal gave the book a Red Star Review, writing, "He tells a story that is sometimes horrific, always interesting and ultimately inspirational about a white Southerner's commitment to racial justice."
A question and answer session will follow Zellner's talk and a book signing and reception will follow the Q&A. For more information, contact the public relations office at (859) 233-8120.