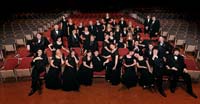 LEXINGTON, Ky.—The Transylvania University Choir embarks on its winter tour Tuesday, Jan. 3. The choir will perform in four cities in four days on their tour: Alpharetta, Ga.; Tampa, Fl.; Brandon, Fl.; and Fort Myers, Fl. At the conclusion of the tour, the choir will also give a performance at Transylvania.
Selections for the performances include "How Can I Keep From Singing," "Lo, How a Rose E'er Blooming," "Bogoroditse Devo (Ave Maria)" and "Plenty Good Room (On the Glory Train)." Transylvania's a cappella group, TBA, will also perform some selections from their repertoire.
Tuesday, Jan. 3 at 7 p.m.
Alpharetta Methodist Church
Alpharetta, Georgia
Wednesday, Jan. 4 at 6:30-8:30 p.m.
Alumni and prospective student reception
Grand Hyatt Tampa Bay
Tampa, Florida
Thursday, Jan. 5
Choral Workshop 1-3 p.m.
Concert 7 p.m.
Brandon High School
Brandon, Florida
Friday, Jan. 6 at 7 p.m.
Fort Myers Christian Church
Fort Myers, Florida
Wednesday, Jan. 11 at 7:30 p.m.
Carrick Theater, Mitchell Fine Arts Center
Transylvania University
Lexington, Kentucky
(859) 233-8141
Free and open to the public
Under the direction of Gary Anderson, Transylvania professor of music and director of choral ensembles, the choir toured Venice, Italy; Dubrovnik, Croatia; and Ljubljana, Slovenia in May 2009 as part of Transylvania's innovative May term. In 2006, the choir toured Vienna, Austria, Hungary and the Transylvania region of Romania. Continental tours are scheduled during the years the choir does not travel abroad.
For more information, contact the fine arts office at (859) 233-8141 (the office will be closed Dec. 17-Jan. 3).