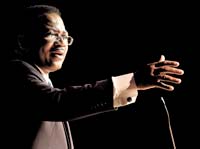 LEXINGTON, Ky.—In honor of Martin Luther King Jr. Day, Transylvania University will present "The Dream Alive Program," featuring Joe Rogers, Thursday, January 12, at 7 p.m. in the Mitchell Fine Arts Center's Haggin Auditorium. The program is free and open to the public.
"The Dream Alive Program" is an incredible live commentary by Rogers in dedication to the life, memory and legacy of Martin Luther King Jr. and the leaders of the Civil Rights Movement. This powerful program with an enlightening message for today is an effort to help increase the understanding of the enormous contributions that King imparted to the nation and a reminder that his wisdom and vision are timeless.
Rogers is the former Lieutenant Governor of Colorado, where he held the distinction of serving as America's youngest Lieutenant Governor and only the fourth African American in U.S. history ever elected as a state's number two executive. Now a national speaker, lecturer and attorney in Colorado who served on the seven-member National Commission on the Voting Rights Act, Rogers has been recognized for his work and commitment to strengthening America. He is a recipient of the Trumpet Award from Time Warner's Turner Broadcasting System, one of the nation's highest honors bestowed in recognition of African American achievement. The award heralds the accomplishments of individuals who have made significant contributions and enhanced the quality of life for all Americans. Persons who have received the award include Muhammad Ali, former Supreme Court Justice Thurgood Marshall, Rosa Parks, Lena Horne, Tiger Woods, General Colin Powell, Nat King Cole and Sidney Poitier.
Rogers has been profiled by Newsday, The New York Times, The Washington Post, The Washington Times and Business Week, Ebony, Jet and Teacher magazines. Ebony called him a "political trailblazer," and The New York Times wrote that he is a "young, articulate, energetic and well-prepared newcomer."
For more information, contact the public relations office at (859) 233-8120.