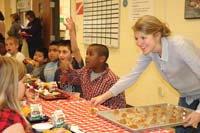 LEXINGTON, Ky.—Childhood obesity rates rose nearly 15 percent between 1980 and 2008 and a flurry of articles from The New York Times, the Los Angeles Times and USA Today, among others, place at least part of the blame on nutritionally deficient school lunches. First Lady Michelle Obama's "Let's Move!" campaign and organic garden on the White House lawn have brought national attention to childhood obesity and the need for kids to have access to healthy food options.
Transylvania University junior and exercise science major Eryn Hornberger sees a deeper issue. "A lot of the problem lies in kids not wanting the healthy food in the first place," she said. "They don't understand the importance of its healthy qualities, better taste and the strong impact it has on their community and local economy."
As an intern in the Fayette County Public School's (FCPS) Child Nutrition department this semester, Hornberger has seen the commodity and processed foods that are ordered by school systems and the lack of local foods on school menus.
The ordering process for those items is simpler, she said, and the "processed foods and produce vendors the schools use guarantee a specific serving size, which most farmers can't do, or won't be able to determine until the food service has the data to see from experience. Too often this results in turning back to old ways, as they are already working with very little funding. The food service providers are on board with the local food movement, but they have to be cautious for monetary and safety concerns."
As a final project for her internship, Hornberger planned a themed lunch for a Lexington elementary school. Having spent time working with the department's Farm to School program, Hornberger decided to choose locally-sourced foods as her theme and on Friday, December 2, approximately 300 students at Russell Cave Elementary School were served a "Kentucky Proud Homegrown Meal" at no cost. Parents and teachers were encouraged to join the students and show their support.
"Eryn did all the normal paperwork that a manager or supervisor has to do, including nutrient analysis and gathering recipes," said Marty Flynn, Hornberger's supervisor and child nutrition coordinator for FCPS.
Hornberger designed the menu, calculated the amount of food that would be needed, called or met with local producers to procure the food, used a computer program to determine and evaluate the nutritional information for each item and for the meal in general and worked with the cafeteria manager to determine food allergies and general dislikes and other concerns.
Hornberger had seen in earlier local food taste tests she and Flynn had conducted in schools that some advertising and student curiosity could go a long way to getting the students to try new foods. She made a video announcement for Russell Cave's morning news, sent flyers—in English and Spanish—home to parents and created a survey for the students to fill out after the meal that asked what the student's favorite food from the meal was and why they think it's important to eat local food.
The amount provided to schools for each free student meal is $2.77, but only 40 percent of that goes to the actual food cost. Hornberger's homegrown meal cost $2.50 per child for the food alone. For more locally sourced foods to appear on school menus, procurement procedures have to be adapted to make it easier on local farmers.
"The procurement process is mandated by the National School Lunch Program and requires that when any school food service orders a product, there must be at least three bids from different producers," said Hornberger. "This is designed to make sure the food service is getting the best deal and that every producer has an equal opportunity."
Hornberger has spent a great deal of time at her internship writing up procurement information designed specifically for local Kentucky produce that will allow local farmers to apply to be one of the produce sources for Fayette County's food service. More than one farmer will be needed to cover each produce item, since there are more than 50 schools in the system. Hornberger hopes the school system will get enough local applicants to supply at least most of the schools. The department has also been working with the Lexington Farmers' Market and their pool of farmers.
"We may be able to get some food for this spring," said Hornberger, "but it's more likely that the schools will see more local produce in the fall of 2012."
By fall, Hornberger will have additional research under her belt. With a Kenan/Jones grant from Transylvania, this summer Hornberger will travel with exercise science professor and academic adviser Sharon Brown to Italy, the birthplace of the Slow Food Movement. They will observe three different school settings that are all active models for the movement. Menus will be analyzed and conversations will be organized with school leaders, teachers, cafeteria employees, parents and students. Observations will include the preparation of the school meal, the students' opinions, the atmosphere of the meal and how much of an interest students have in their food. Hornberger and Brown will also meet with local community officials and visit one of the farms that provides for regional school lunches. Hornberger will then write a research abstract to submit to the American College of Sports Medicine Annual Meeting in 2013.