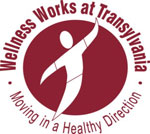 LEXINGTON, Ky.—Dozens of Transylvania employees will don tennis shoes and jeans on Friday, taking business casual to a whole new level.
Earlier this year, Transylvania University was one of only 19 colleges in the country to be named a gold level Fit-Friendly Company by the American Heart Association. The AHA highlighted Transylvania's Wellness Works initiative, which offers various programs to faculty and staff that target physical, financial, emotional, occupational, intellectual and social wellness, and Transylvania's status as a tobacco-free campus.
But the university is not resting on its laurels, and on November 4 will roll out a new program, Fit Fridays, to encourage employees to build more physical activity into their workdays.
"When we filled out the Fit-Friendly protocol, one of the questions asked was whether the company encouraged employees to be more active by having casual days or wear your tennis shoes to work days," said Ashley Hinton-Moncer, director of fitness and wellness. "We didn't, and we thought that was something we could add."
One-third of Transylvania's staff members have already signed up to participate, which means they'll use a portion of an extended lunch period to exercise and will wear a Fit Friday T-shirt and jeans or other casual slacks and tennis shoes. The specially-designed T-shirts will help spread the message to the campus community and visitors that Transylvania is a company focused on fitness and wellness.
Last week, Transylvania launched the Big Green Get Around, which combines wellness and sustainability. The program is sponsored by the sustainability office and the wellness committee and encourages faculty, staff and students to take the stairs whenever possible and find low- or no-carbon transportation options. Teams of four, including teams that mix faculty, staff and students, have signed up for either the Big Green Climb, or the Big Green Commute or both. The teams will be competing for lunch at a downtown Lexington restaurant of their choice and bragging rights. Each flight of stairs, up or down, is counted for the Big Green Climb, and different points are earned for each method of low- or no-carbon transportation that a participant takes to any destination.
"I think the goal for both programs, is to get every day physical activity into our staff and faculty members' routines," said Hinton-Moncer. "Many adult Americans don't accumulate even 20 minutes of physical activity in a work day. And the definition of physical activity isn't necessarily what we perceive as exercise; it literally simply means getting up and moving around."
The Big Green Get Around concludes on November 18, but the hope is that participants will continue to make taking the stairs and considering alternative transportation a habit. Fit Friday will be an ongoing initiative.
Among the free wellness initiatives that Transylvania offers to its employees are an annual health fair with flu shots, counseling sessions with a nutritionist, smoking cessation courses, fitness classes, financial and retirement planning sessions,  healthy cooking classes and non-emergency healthcare.