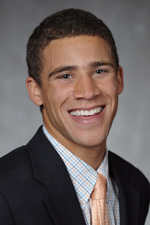 LEXINGTON, Ky.—Transylvania University senior Lee Richardson of Nicholasville, Ky., represented the university at the District IX Rhodes Scholarship interview this weekend. Richardson, a biochemistry and Spanish double major, was one of 830 finalists from 299 colleges and universities across the country. Thirty-two Rhodes Scholars are named from the United States each year, two from each district.
"We are all very proud of Lee for being selected a Rhodes finalist," said Transylvania President R. Owen Williams. "Though not selected for this prestigious award, he was one of only 11 finalists in our district of Kentucky, Ohio, and Indiana. We congratulate him on this extraordinary accomplishment and for carrying the Transylvania banner."
Richardson is extremely involved in curricular and extracurricular activities. His commitment to service has taken him to Ecuador as a medical intern, Costa Rica for storm relief and Mexico for construction of sustainable housing for homeless families. Closer to home, he has served as a founding member of T.U.T.O.R.S, an organization of Transylvania students who volunteer at local middle schools on a weekly basis to mentor and tutor newly arrived refugee ESL students; has participated in alternative spring break; and served as fundraising coordinator for Transylvania's Hope for Haiti efforts to raise money for the Haitian citizens affected by the January 2010 earthquake.
An aspiring physician, Richardson has been applying and interviewing at medical schools concurrently with applying for the Rhodes Scholarship. He is also applying for a Fulbright research grant to study sexual health, education and youth in Ecuador.
Richardson says he appreciates the tremendous support he's received from Transylvania in preparing for the Rhodes Scholarship. "From the start, President Williams and the faculty, staff and students helped me hone my essay [for Rhodes] and work on my CV," he said.
Richardson is a recipient of the Transylvania Scholarship, given to rising juniors and seniors who have achieved outstanding academic records and have made significant service contributions to Transylvania. He has served as a student orientation leader for three years and was also a discussion leader for a First Engagements book group of first-year students each of those years. He served as president of the Beta Mu chapter of Delta Sigma Phi in 2010, when the fraternity was recognized as the top chapter nationally for scholarship, campus and community involvement and financial stability. He was also recognized nationally on an individual level as one of the five most influential undergraduates of 4,500 active members of Delta Sigma Phi in 2011 with the E. Allen James Undergraduate Citation of Merit.
"It was clear the first time I met Lee that he would be a powerful leader at Transylvania," said Kathleen Jagger, associate vice president and associate dean of the college. "That power comes not from forcefulness but rather from his authentic engagement with others, his intense intellectual curiosity, his ever positive disposition and his humility."
Michael Cronk, assistant director of career development at Transylvania, has assisted Richardson in preparing his applications for medical school and the Rhodes Scholarship.
"Lee really represents the best of Transylvania," said Cronk. "He is a dedicated student who is always learning from those around him, inside and outside the classroom. He has combined a determined, nose-to-the-grindstone work ethic with a genuine and easygoing personality that makes him ever popular on campus, both among faculty and administrators as well as his peers."