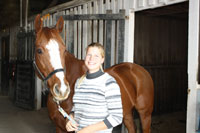 Transylvania University announced today that it will add equestrian as its 23rd varsity sport, beginning in the 2012-13 year. The 2011-12 year will be spent recruiting.
The Pioneer equestrian team for women and men will be led by head coach Lorah "Darcy" Wax, who started riding as a child and is a former Pony Clubber with experience showing her horses in Dressage, Eventing and Hunter/Jumpers. Wax has additional experience with top Olympic riders, three-day events, dressage shows, English and Western riding instruction, clinics, horse sales and showing.
"Darcy is an accomplished rider and has past experience instructing Intercollegiate Horse Show Association competitors," said Transylvania athletic director Jack Ebel. "She has done a phenomenal job preparing her farm for our program. We think she is the perfect person to develop what we believe will be a very popular program at Transylvania. Equestrian will go over very well here in the heart of the Bluegrass and horse country."
Transylvania will compete in the Intercollegiate Horse Show Association (IHSA), which was established in 1967. There are more than 370 college teams in the IHSA representing more than 8,300 riders. Within the IHSA, the Pioneers will compete in English riding, or hunt seat division. There are eight different levels and nine competition classes within the English division, ranging from walk-trot to walk-trot-canter, and including both flat work and work over fences.
"I'm thrilled to have the opportunity to work with Transylvania University," said Wax. "I am really looking forward to developing this program and competing with future student-athletes at Transy. Having an equestrian program in the heart of horse country just makes sense and there is no reason we can't be highly successful."
In July 2010, Wax started Dreamer's Run Farm, which the Pioneer equestrian team will call home. Just ten minutes from Transylvania's urban campus, Dreamer's Run is a beautiful  45-acre farm that offers a multitude of amenities that will prove valuable to the team's development.
For more information, contact Glenn Osborne at (859) 233-8284 or go to www.transysports.com.