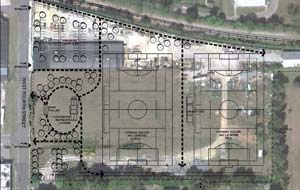 This is one rendering of possible athletic fields. A campus planner is being hired and a feasibility study will be conducted.
LEXINGTON, Ky.—President R. Owen Williams announced today that Transylvania University has purchased one property on the corner of Fourth and Jefferson streets in Lexington and is in the process of purchasing another property on Fourth Street.
"Our long-term plans may well include further acquisitions, but at this time we have no intention of purchasing more land until we have completed a feasibility study for what we've already acquired," said Williams.
One of the properties Transylvania is purchasing is a 10-acre lot—523, 551 and 555 West Fourth Street—that Williams sees as the future site of athletic fields for soccer, lacrosse, field hockey and track.
"We would expect to begin construction during the 2012 calendar year, though precise dates will be determined through the course of campus planning," said Williams.
The university is currently interviewing campus planners and a decision should be made within the next month. The raising of funds for future development of these properties will happen during the university's next campaign, which will begin in 2012.