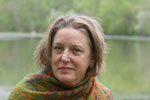 Nana Lampton
LEXINGTON, Ky.—Landscape comes alive when seen through the eyes of painter, poet, business woman and world traveler Nana Lampton. The Morlan Gallery will open an exhibit of Lampton's work, "Beyond Boundaries: New Work by Nana Lampton," on November 10. The exhibit will be open through December 6, including for the Lexington Gallery Hop on November 18. The gallery will be closed for the Thanksgiving holiday November 24-25.
New paintings of the dramatic Andes Mountains and the flowered fields of Nova Scotia will be shown alongside Kentucky's own vivid land and riverscapes. Poetry and sketchbooks from Lampton's travels are included in this premiere exhibition.
"We think of its vast dimensions, yet we know only five percent is visible to us," said Lampton. "The artist thinks about the rest, and its effect on us."
A bonus exhibition is in the Shearer Student Art Gallery. Juried by Lampton, the exhibit brings together the artworks of Transylvania students similarly moved by travel and sense of place.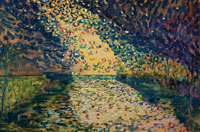 Lampton's "Dark Energy," 2011
Lampton earned a B.A. in English literature at Wellesley, and an M.A. at the University of Virginia, and she attended programs at the Harvard Business School. In 2004, she received an M.F.A. in writing from Spalding University. Lampton has also studied drawing and painting at the Corcoran School of Art and the Louisville Visual Art Association. She has written several books of poetry including "Bloom of a Split Board," "Snowy Owl Gathers in Her Trove" and "Moon with the Sun in Her Eye." Her art and poetry have been exhibited at the Chapman Friedman Gallery in Louisville, Ky., and the Northwoods Gallery in Land O' Lakes, Wis., among others. Lampton is chair and CEO of American Life and Accident Insurance Company of Kentucky, and serves on many business and nonprofit organizations boards.
The gallery is free and open to the public weekdays from noon-5 p.m. There is an opening reception for the artist on Thursday, November 10, from 6:30-8 p.m. The Lexington Gallery Hop is Friday, November 18, from 5-8 p.m.
For more information, contact gallery director Andrea Fisher at (859) 233-8142 or visit www.transy.edu/morlan.