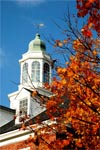 LEXINGTON, Ky.—Transylvania University has been named a best value by "Kiplinger's Personal Finance." The university ranked 69th in the magazine's annual list of the top 100 liberal arts colleges that combine outstanding quality with affordability.
"College is a significant investment," said Brad Goan, Transylvania's vice president for enrollment and dean of admissions. "The four years a student spends at Transylvania are exceptional, but the real value of a Transylvania education is in how it empowers our students and alumni to envision the possibilities in life and provides them with the skills, wisdom and courage to pursue them."
Kiplinger's assesses quality according to measurable standards, including the percentage of students who are admitted out of those who applied, the test scores of incoming freshmen, the ratio of students to faculty members and the four- and five-year graduation rates. This year, Kiplinger's adjusted the criteria to better reflect the issues affecting families. Now, the rankings give more weight to the four-year graduation rate—a measure of the college's ability to deliver academic support and of the overall cost to families—and to colleges that keep student debt down.
"We are pleased to see Kiplinger's confirm what our graduates already know—that a Transylvania education is a great value," said David Cecil, Transylvania's associate vice president for financial aid.
Ninety-six percent of Transylvania's graduates are employed or enrolled in graduate programs within six months of graduation, and 93 percent of graduates complete their degree in four years, which is a tremendous savings when compared with students who spend five or six years completing their undergraduate degrees. And, Transylvania is ranked by PayScale as one of America's top liberal arts colleges in relation to career salary potential for its graduates.
Transylvania, founded in 1780, is the nation's sixteenth oldest institution of higher learning and is consistently ranked in national publications as one of the top liberal arts colleges in the country.