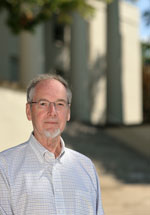 Richard Taylor
LEXINGTON, Ky.—In celebration of the National Day of Writing, Transylvania University will host a poetry reading, "Writing the Landscape" at the Carnegie Center for Literacy and Learning on Thursday, October 20, at 6 p.m. The reading, which is free and open to the public, features authors Carrie Green, George Ella Lyon, Bianca Spriggs '03, Richard Taylor, and Lisa Williams.
Green is the author of "It's Not My Birthday, That's Not My Cake."
Lyon is the author of numerous books for children and adults including several collections of poetry such as "Catalpa," "Where I'm From, Where Poems Come From" and "Choices: Stories for Adult New Readers."
Spriggs, an Affrilachian poet and Cave Canem Fellow, graduated from Transylvania in 2003 and is the author of "Kaffir Lily" and "How Swallowtails Become Dragons."
Taylor is a former poet laureate of Kentucky and the current Kenan Visiting Writer at Transylvania. He is the author of "Sue Mundy: A Novel of the Civil War in Kentucky," "Rail Splitter," "Stone Eye" and "Girty."
Williams is associate professor of English at Centre College and the author of "Woman Reading to the Sea" and "The Hammered Dulcimer."
The lecture is sponsored by the Carnegie Center, the Transylvania Writing Center, and Transy/Sustainability. A book signing and reception will follow the reading. For more information, contact Scott Whiddon, assistant professor of writing, rhetoric, and communication and director of the Writing Center at Transylvania.