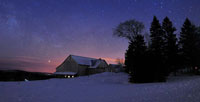 LEXINGTON, Ky.—Transylvania University Theater opens the 2011-12 season with "Almost, Maine," which runs Oct. 27-29 and Nov. 3-4 at 7:30 p.m., and Oct. 30 and Nov. 5 at 2 p.m., in Transylvania's Lucille C. Little Theater.
Sullivan Canaday White, program director and assistant professor of theater, directs this play that the Wall Street Journal called "a comic romantic roundelay."
On a cold, clear, moonless night in the middle of winter, all is not quite what it seems in the remote, mythical town of Almost, Maine. As the northern lights hover in the star-filled sky, Almost's residents find themselves falling in and out of love in unexpected and often hilarious ways. Knees are bruised. Hearts are broken. But the bruises heal, and the hearts mend-almost-in this delightful midwinter night's dream.
"What has made this production a unique experience and an extraordinary learning opportunity for the students is that they have been coached by professional actors Evan Bergman, Ginna Hoben and Spencer Christensen," said White.
Tickets are $10 and may be reserved by calling the box office at (859) 281-3621. For more information, contact Transylvania's  fine arts office at (859) 233-8141.