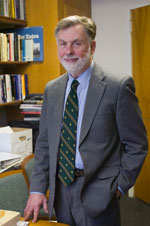 LEXINGTON, KY.—Transylvania University launches a new lecture series, the John Marshall Harlan Series, with a talk by legal and constitutional historian William Wiecek on Monday, September 26th, at 7:30 p.m. in Carrick Theater in the Mitchell Fine Arts Center. The lecture, "John Marshall Harlan, Race, and the United States Supreme Court," is free and open to the public.
"We created this lecture series to bring to campus highly esteemed legal figures of national or international prominence who have distinguished themselves in constitutional law or history," said Transylvania President R. Owen Williams. "We are delighted to have William Wiecek as our first speaker."
Wiecek is currently serving as the Lassiter Distinguished Visiting Professor at the University of Kentucky Law School. He is the author of numerous books. His most recent, "The Birth of the Modern Constitution: The United States Supreme Court, 1941–1953" (volume 12 of the Holmes Devise History of the Supreme Court of the United States), won the John Phillip Reid Prize awarded by the American Society for Legal History for the best book in legal history published in 2006.
Harlan, an associate justice on the U.S. Supreme Court from 1877-1911, was a Kentucky lawyer and politician and an 1852 graduate of Transylvania's law department. An early champion of civil rights, he is most notable as the lone dissenter in the Civil Rights Cases (1883) and Plessy v. Ferguson (1896), which, respectively, struck down as unconstitutional federal anti-discrimination legislation and upheld Southern segregation statutes.
The John Marshall Harlan Lecture Series is made possible by the generosity of McBrayer, McGinnis, Leslie & Kirkland, PLLC.