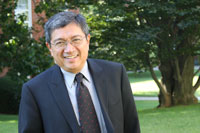 LEXINGTON, Ky.—Eduardo Nino-Moreno has been named director of campus diversity and inclusion at Transylvania University. The new position was created to help expand Transylvania's commitment to diversity, and Nino-Moreno will report directly to President R. Owen Williams, who has made diversity a priority for Transylvania's campus.
"We are very excited to add Eduardo to our team at Transylvania," Williams said. "A liberal arts community is one that tackles issues from a variety of angles and viewpoints, and the more diverse campus we will become under his leadership will help our students become the global thinkers they strive to be."
Nino-Moreno comes to Transylvania with more than 30 years of experience in international education, recruitment and fundraising. He spent over two decades with the United Nations stationed throughout Central and South America, Asia and Africa planning human development programs, leading diverse professional teams and managing U.N. resources. He holds a B.A. from Dartmouth College and an M.A. from Cornell University.
As director, Nino-Moreno will develop and implement a variety of positive, proactive initiatives that support an integrated approach to diversity and inclusivity in all aspects of university life, including a strategic plan for diversity. In addition to increasing the number of students from underrepresented demographics, he will work to augment programs and events on campus that demonstrate the importance of diversity in education, and he  will help Transylvania connect with the Lexington community to promote diversity. He will work closely with Vince Bingham, Transylvania's coordinator of multicultural affairs.
"I am honored and delighted to have become Transylvania's first director of campus diversity and inclusion," he said. "This position reflects the priority that top leadership has assigned to making our school more diverse while ensuring that we continue offering our students the opportunity to interact in a growth-promoting environment where difference does not make any difference as it is understood, accepted, valued and welcome."
Nino-Moreno was chosen by a search committee made up of members from various areas of Transylvania and several members from the Lexington community, including Andrés Cruz, editor of La Voz de Kentucky; Councilman Chris Ford; Erin Howard, BCTC Hispanic outreach coordinator; Isabel Gereda Taylor, Lexington multicultural affairs coordinator; Jim Embry, director of Sustainability Communities Network; Joshua Santana, president of the Lexington Hispanic Education Association and a 1970 graduate of Transylvania; Lindsay Mattingly, multicultural liaison for the Central Library Outreach Department; and Larry Johnson of Partners for Youth.