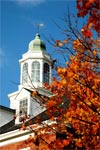 LEXINGTON, Ky.—Transylvania University moved up seven places—from 88 to 81—in the latest U.S. News & World Report college rankings.
U.S. News ranked 252 national liberal arts colleges and universities in statistical measures such as student graduation and retention rates, financial resources, commitment to instruction, class size, faculty pay, student selectivity and alumni giving, as well as a subjective measure of academic reputation.
"We take the U.S. News rankings seriously; however, we don't live and die by them," said Transylvania President R. Owen Williams. "We do know that many high school students and their families look at college rankings when selecting a college. We think that U.S. News uses very reasonable metrics, and most of the ranking is based on objective measures."
Transylvania made gains in its graduation rate performance, graduation and retention rates, faculty resources and student selectivity.
Transylvania, founded in 1780, is the nation's sixteenth oldest institution of higher learning and is consistently ranked in national publications as one of the top liberal arts colleges in the country.