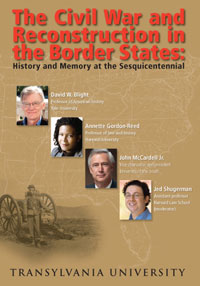 LEXINGTON, Ky.—In commemoration of the 150th anniversary of the American Civil War, four prominent scholars of nineteenth-century American history and legal history took part in "The Civil War and Reconstruction in the Border States: History and Memory at the Sesquicentennial. Taped at Transylvania University's Haggin Auditorium, the Michael Breeding Media film will air on Kentucky Educational Television (KET and KET KY) through September 24 and October 11-15.
Participants include David W. Blight, professor of American history, Yale University; Annette Gordon-Reed, professor of law and history, Harvard University; and John McCardell Jr., vice-chancellor, The University of the South. Jed Shugerman, assistant professor of law, Harvard University, served as moderator. The panelists spoke on the history of the South, slavery, Reconstruction and Robert Penn Warren's reflections on the war during the symposium taped for this one-hour program.
The program will air on the following dates and times (Eastern):
Tuesday, September 20, 9 p.m. (KETKY)
Thursday, September 22, 4 a.m. (KET) and 4 p.m. (KETKY)
Saturday, September 24, noon (KETKY)
Tuesday, October 11, 11 a.m. and 10 p.m. (KETKY)
Saturday, October 15, noon (KETKY)

The symposium was held April 28 in Haggin Auditorium as part of the festivities surrounding the inauguration of R. Owen Williams as Transylvania's 25th president.
A DVD of the KET special can be ordered here, by clicking on "Miscellaneous Conferences" on the menu on the left, then selecting "Civil War DVD." DVDs are $12 each. A promo of the one-hour special can be viewed here.