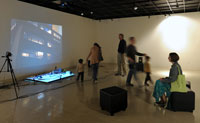 LEXINGTON, Ky.—To open the 2011-12 academic year, Transylvania University's Morlan Gallery is hosting two interactive works and one generative work for "Unveiling the Painted Curtain: 21st C Interactive Art," which runs through Oct. 28. The exhibition title refers to new media artist and theorist Maurice Benayoun's idea that the very first interactive art was initiated in the 5th century BC when Italian painters Parrhasius and Zeuxis had a competition to determine who was the better artist. It is said Parrhasius won when Zeusix tried to physically unveil his painting, only to discover the curtain was actually paint. Thus, Zeuxis' gesture becomes part of the painting.
The exhibition features "Toys' Opera" by Yoni Niv, Elad Shniderman and Adam Kendall; "Higher Calling" by Tim Polashek; and "Forgetfulness" by Ivica Ico Bukvic.
"Toys' Opera" is a multimedia installation or performance project for multi-channel video, multi-channel sound-art and physical-computing. It's centered around a small universe of HO-scale trains, models, contact microphones and miniature cameras on a 5' x 4' stage. Most of the trains are serially-controlled via Arduino microcontrollers. "Toys' Opera" creates an abstract narrative built by machine-like formal processes executed upon the recognizable trains and models. It explores the boundaries between suggested and real worlds and wants to create a corrupted sense of reality.
"Higher Calling," created by Timothy Polashek, assistant professor of music at Transylvania, is an interactive installation manipulating sound and images of an infomercial from the 1950s for telephones. Simple transformations of time, sound and motion lead to perceptual ambiguities and riddles, paying homage to the musical minimalists of the 1960s. A computer captures simple input (a tap) from gallery visitors, generating new video segment.
Ivica Ico Bukvic used a popular gaming device, the Wii Fit Board, for his interactive audio-visual artwork "Forgetfulness." The installation tries to capture the infinite nature of Denise Duhamel's poetry through the use of dynamic audio-visual metaphors. Through the use of external controller, namely the Wii Balance Board, the audience is given full control over the poetry's pace and drama. Throughout the journey, explorers are greeted with aural shapes and gestures designed to complement their multi-sensory experience, and yet whose unpredictable nature allows them to be studied also as entirely independent location-aware soundscapes.
The Morlan Gallery is open weekday, noon to 5 p.m. and by special appointment. The gallery is closed for fall break, Oct. 17-18. For more information, contact Andrea Fisher at (859) 233-8142.