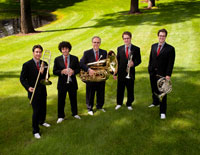 LEXINGTON, Ky.—The internationally acclaimed Canadian Brass will perform a concert in Haggin Auditorium on Wednesday, September 21, at 7:30 p.m. as part of the Dorothy J. and Fred K. Smith Endowed Concert Series.
With a discography of over 90 albums and an extensive worldwide touring schedule, Canadian Brass is a pioneer in bringing brass music to audiences everywhere. Members of the famed quintet are renowned for their dazzling virtuosity and freewheeling performance style. The group helped to transform a previously undervalued group of instruments with a limited repertoire into a versatile ensemble proficient in everything including renaissance and baroque masters, classical works, marches, holiday favorites, ragtime, Dixieland, jazz, big band, Broadway and Christian music, as well as popular songs and standards. They are especially known for their Christmas concerts and for helping reestablish Scott Joplin with modern audiences through their research, arrangements, and recordings of his rags and other works.
Canadian Brass was the first brass group from the west to play in China and the first to take the stage in Carnegie Hall. They have performed in Australia, the Middle East, the former Soviet Union and South America. They have appeared on "The Tonight Show," "Today," "Entertainment Tonight," "Sesame Street" and numerous PBS programs.
Members of the famed quintet are Chuck Daellenbach (tuba), Christopher Coletti and Brandon Ridenour (trumpets), Achilles Liarmakopoulos (trombone) and Eric Reed (horn).  In addition to the performance, the group's members will present a workshop for Transylvania students.
Free tickets, while they last, are available at Transylvania's William T. Young Campus Center (corner of Broadway and Fourth Street) Monday-Thursday from 8:30 a.m. to 11 p.m., Friday from 8:30 a.m.-8 p.m., Saturday from noon-8 p.m. and Sunday from 1-11 p.m. For more information, contact the public relations office at (859) 233-8120 or the fine arts office at (859) 233-8141.
The Smith Concert Series was created in 2007 by Dorothy J. Smith, a 1942 Transylvania graduate, to bring high quality musical performances to Transylvania's campus. The series is named for Smith and her late husband, Fred K. Smith, a 1940 Transylvania graduate. Previous concerts include Anonymous 4, Kronos Quartet, Chanticleer and Tiempo Libre.