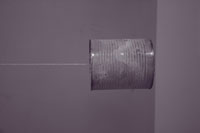 LEXINGTON, Ky.—On September 30, Transylvania University junior Paul Brown will open his first solo exhibit, "The Prayer Project," at the Land of Tomorrow (LOT) Gallery in Lexington. A reception will be held at 6-11 p.m. and is free and open to the public.
For "The Prayer Project," a sculptural audio show, Brown has collected nearly 400 prayers from a variety of sources and had volunteers record them. The prayers can be heard from one end of a soup can telephone mounted onto each of three sculptures. Each sculpture broadcasts a different type of prayer: inward, outward or upward. Prayers are commonly categorized in this way, with inward prayers functioning as a means of self-reflection or meditation, outward prayers being about and for others and upward prayers being a means of connecting with the divine, such as a prayer of praise.
"I decided religion and prayer were good foils for that lack of clarity that comes from using can telephones," Brown said, of his concept for the exhibit.
Kevin Ladd, associate professor of psychology at Indiana University South Bend, will give a talk at the opening reception. Ladd's research interests include prayer, the interface between science and religion and spiritual transformation. Brown has consulted with Ladd throughout the development of his exhibit and the graphite drawings Brown has also included in the exhibition depict prayer positions that seem universal among most faiths and are consistent with Ladd's concept of directional prayer.
Brown has been an intern at LOT for nine months and has been able to work at different levels of the organization and has published some interviews he has done with contemporary artists. Kurt Gohde, professor of art at Transylvania, was Brown's mentor for the project and art professor Zoe Strecker and religion professors Paul Jones and Carole Barnsley have also helped Brown with "The Prayer Project."
Brown is a biology major from Owensboro, Ky. "The Prayer Project" is funded by a Kenan/Jones Grant from Transylvania University.