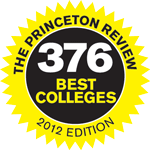 LEXINGTON, Ky.—Transylvania University is listed in The Princeton Review's The Best 376 Colleges, a ranking that includes the top 15 percent of America's 2,500 four-year colleges.
"Each of our 376 best colleges offers outstanding academics," says Robert Franek, the book's author and Princeton Review senior vp/publisher. "We don't rank them hierarchically, 1 to 376, because they differ widely—and importantly—in their program offerings and campus culture, and that is their strength. Our goal is not to crown one college 'best' overall, but to help applicants find and get in to the college best for them."
The book's two-page profile of Transylvania includes comments from Transylvania students surveyed for the book. According to students, Transylvania strives to provide "a holistic educational experience where one can grow intellectually and academically while participating in a vibrant social community." Professors "are both very knowledgeable and fun to be around" and their accessibility is "amazing."
When it comes to social life on campus, students were quoted as saying "every social event is practically an open invitation" and Transylvania's location in downtown Lexington means students are often found "walking downtown to theaters, art exhibits, or other downtown events."
Students commented that their classmates come "from different backgrounds including differences in sexual orientation, class, religion, region and political orientation" meaning "most students will find themselves right at home on campus."
The Princeton Review, a New York-based education services company known for its education, admission and test-prep services, is not affiliated with Princeton University or ETS.
Transylvania, founded in 1780, is the nation's sixteenth oldest institution of higher learning and is consistently ranked in national publications as one of the top liberal arts colleges in the country.