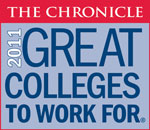 LEXINGTON, Ky.—Transylvania University was recently named a Great College to Work For by the Chronicle of Higher Education. The ranking is based on survey responses from nearly 44,000 people at 310 institutions. Transylvania is among the 111 colleges across the country to be named to the final list, each having received recognition in at least one of 12 categories.
The response rate to the surveys was 40 percent nationwide, but Transylvania's response rate was 60 percent. The assessment process had two components: a questionnaire about institutional characteristics and a faculty/staff questionnaire about individuals' evaluations of their institutions. The 12 categories of recognition included collaborative governance, professional/career development programs, compensation and benefits, job satisfaction, work/life balance and supervisor/department chair relationship. Transylvania was recognized in the supervisor/department chair relationship category.
"I was extremely pleased to learn that Transylvania was recognized as a great place to work in our first year of participation," said Jeff Mudrak, director of human resources. "We excelled in many areas and received recognition in one area, department chair/supervisor relationships."
Mudrak said that with a record number of schools competing for recognition, making the list was no small feat.  "Moving forward, we will continue to build on our strengths and make improvements in other areas with the goal of being recognized as an honor roll institution next year," he said. "I firmly believe that providing a great place to work undoubtedly contributes to making Transylvania University a great place to learn."
Transylvania, founded in 1780, is the nation's sixteenth oldest institution of higher learning and is consistently ranked in national publications as one of the top liberal arts colleges in the country.