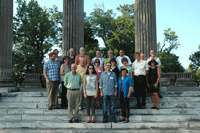 Seminar participants took a tour of Elmendorf Farm.
LEXINGTON, Ky.—Transylvania University, an early leader in liberal arts education, will host an annual seminar titled "Twenty-first Century Liberal Education: A Contested Concept" July 28-31, for 15 faculty members from liberal arts colleges around the country. The participants were selected from a pool of over 45 applicants and they reflect the diversity within the professorate at liberal arts colleges. They included faculty members from Washington and Lee, DePauw, Randolph-Macon and Middlebury College among others.
Seminar sessions include "Modernizing Liberal Education," "The Historical Background to the Contemporary Debates" and "The Purposes of Liberal Education: Varieties of Social Engagement." Participants are asked to consider the application of liberal education principles to enhance their own effectiveness as college and university teachers—in the classroom, in the preparation of course offerings and in the construction of curricula at their academic institutions.
Donal O'Shea, Elizabeth T. Kennan Professor of Mathematics and Statistics and dean of the faculty and vice president for academic affairs at Mt. Holyoke College will give the opening address, "Geometry, Space, and the Liberal Arts." The plenary speaker is Cecilia A. Conrad, Stedman-Sumner Professor of Economics and vice president and dean of the college at Pomona College. Her speech is titled "Is a Liberal Arts College Education a Luxury Good?"
With this annual seminar, Transylvania University, with assistance from The Phi Beta Kappa, seeks to contribute to a national conversation on the idea of liberal education and the mission of the liberal arts college in twenty-first century America. The seminar provides a historical overview of the best thinking about the purpose of liberal education through the ages.
Additional Information:
Transylvania University is among a handful of colleges that pioneered higher education in America. Founded in 1780 by an act of the Virginia legislature under Governor Thomas Jefferson, Transylvania was the first college west of the Allegheny Mountains and only the sixteenth in the nation. The name—from the Latin meaning across the woods—derives from the name given to the rolling bluegrass area of western Virginia that became a part of Kentucky.
Transylvania established the first schools of medicine and law in what was still a wilderness region, educating the doctors, lawyers, ministers, political leaders and others who helped shape the young nation. Distinguished alumni include two U.S. vice presidents, two U.S. Supreme Court justices, 50 U.S. senators, 101 U.S. representatives, 36 governors and 34 ambassadors. Transylvania also founded the first college literary magazine in the west, The Transylvanian, still published by students today.
Located adjacent to Gratz Park, Transylvania's campus is an oasis of green in a historic district of downtown Lexington, a bustling city of 290,000 people, and is just miles from some of the most beautiful and famous horse farms in the world.