Transylvania University is pleased to present a year of concerts, lectures and readings that are free and open the public. Transylvania's theme for the 2016-17 academic season is Unlearn Fear and Hate, an art project by professors Kurt Gohde and Kremena Todorova, based on a poem by Frank X Walker.
Unlearn fear and hate seeks reconciliation, not the defeat of an adversary. Unlearn fear and hate refuses to be passive. It knows justice will prevail. 
Previous Events 
---

Kenan Lecture: Poet Claudia Rankine
Thursday, Feb. 16, 2017, Haggin Auditorium, Mitchell Fine Arts Center
Renowned poet Claudia Rankine will present Transylvania University's 2017 Kenan Lecture. Her five poetry collections include the award-winning "Citizen: An American Lyric," which was the only poetry book to make the non-fiction category of the New York Times bestseller list.
At Transylvania she will discuss making the book and the question of the creative imagination and race. Rankine—who also is a playwright, essayist and editor of several anthologies—is the Aerol Arnold Chair at the University of Southern California, the Frederick Iseman Professor of Poetry at Yale University and a chancellor of the Academy of American Poets. "Citizen" won the National Book Critics Circle Award in 2014.
Black Bone
featuring the work of Brian Campbell, Angel Clark, Willie "Bing" Davis, Natasha Giles, Jared Owens, Kelly Phelps, Kyle Phelps, Bianca Spriggs, Kiptoo Tarus, Frank X Walker and Valeria Watson
Jan. 13-Feb. 14, 2017, Morlan Gallery, Mitchell Fine Arts Center
Black Bone is an exhibition of visual artists and poets sharing how those connected to Affrilachia tell the story of the United States through visual and written culture. Titled after the Affrilachian Poet's first literary anthology released in January, this month-long exhibition showcases artists and poets from states touched by the Appalachians—notably Kentucky, South Carolina, North Carolina and Ohio.
The term "Affrilachia" was originally coined by Frank X Walker and is, according to the Affrilachian Poets website, "an ever-evolving cultural landscape poised to render the invisible visible. Affrilachia embraces a multicultural influence, a spectrum of people who consider Appalachia home and/or identify strongly with the trials and triumphs of being of this region."
---

Moosnick Lectureship in Judaic Studies: Dr. Reuven Firestone
"How the Birth-Pangs of Religion Complicate Peacemaking Between Faith Communities"
Tuesday, Nov. 15, 7 p.m., Carrick Theater, Mitchell Fine Arts Center
"Diversity of Religious Expression in Islam"
Wednesday, Nov. 16, 7 p.m., Ohavay Zion Synagogue, Lexington
Dr. Reuven Firestone, Regenstein Professor in Medieval Judaism and Islam at Hebrew Union College-Jewish Institute of Religion in Los Angeles, one of the country's leading authorities on the relationship between Judaism and Islam, speaks on this relationship. For an example of  Dr. Firestone's public scholarship, visit here.
---

Hazelrigg Endowed Lecture Series: "The Influence of Race and Poverty in Death Penalty and Other Criminal Cases" by Dr. 
Stephen Bright
Thursday, Nov. 3, 3 p.m., Cowgill 102
Stephen Bright of the Southern Center for Human Rights discussed his work with the Center—now celebrating its 40th anniversary—and specifically about his recent U.S. Supreme Court decision in a death penalty case on the basis of racial discrimination in jury selection by the prosecution. For more information about Bright's organization, visit https://www.schr.org.
---

The Delcamp Visiting Writer: Robert Gipe
Thursday, Oct. 27, 5 p.m., Carrick Theater, Mitchell Fine Arts Center
Robert Gipe offered a public reading of "Trampoline," his graphic novel set in southern Appalachia,followed by a discussion of his work. Marianne Worthington, professor of communications at the University of the Cumberlands, introduced Robert and discuss the emergence of the graphic novel, especially as it pertains to the literature of our region.
---
Unlearn Fear + Hate at the Lyric Theatre
Tuesday, Oct. 11
Transylvania students and alumni presented a series of music, theater and spoken word performances surrounding Unlearn Fear + Hate for a group of 500 Lexington elementary, middle and high school students at the Lyric Theatre.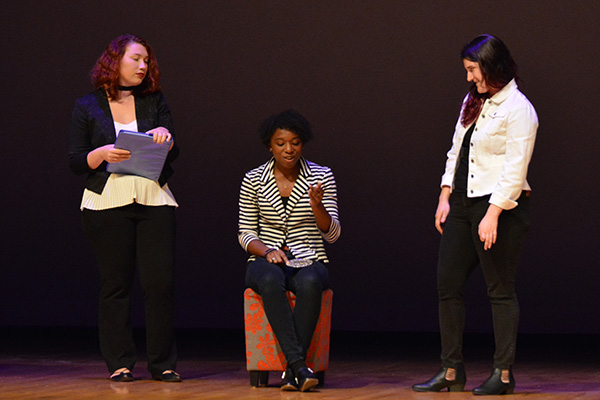 ---

Diana Ferrus Poetry Reading: "Weaving Words to Undo Wounds"
Wednesday, Oct. 5
Known around the world for her work on Sarah Baartman—a Khoisan woman taken to Europe where she was exhibited as a curiosity—Diana Ferrus, a south African Poet, activist and storyteller, led a reading and discussion. This event was co-sponsored by the Carnegie Center for Literacy and Learning and the Transylvania University departments of English, women's and gender studies and philosophy.