Morlan Gallery
Current Exhibition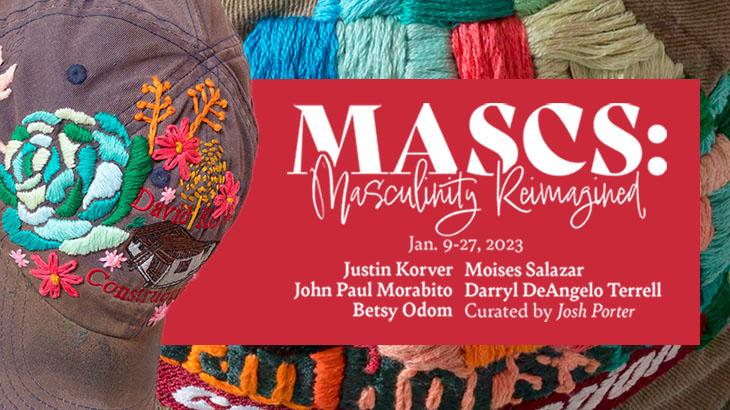 MASCS: Masculinity Reimagined
Jan. 9‑27
Curated by Josh Porter '19
MASCS: Masculinity Reimagined explores how performances of contemporary masculinities can counteract traditional, binary understandings of gender. Justin Korver, John Paul Morabito, Betsy Odom, Moises Salazar, and Darryl DeAngelo Terrell expose the ways that we culturally define masculinity and how that relates to gender performativity. These artists not only critique cisgender, heteronormative binary understandings of masculinity, but also embrace the performative nature of gender and celebrate non-normative, alternative, and queer masculinities. By encompassing a range of gender and sexual identifications, these artists share their own personal experiences, interpretations, performances, rejections, and embodiments of masculinity. Breaking down the barrier created between masculinity and femininity, they embrace feminist and queer approaches to reimagining our cultural understandings of gender.
The act of queering—or a way to challenge and break down assumptions of identity and power—is a key part of the exhibition. As queering undercuts cultural authority, this exhibition works to queer masculinity toward the dismantling of patriarchal expectations, while showcasing the expression of masculinity in queer, trans, non-binary, and even cis-het individuals. MASCS uses this framework to showcase iterations of masculinity that challenge social norms surrounding gender and celebrate rebellious masculinities. The artists in this exhibition break down traditional gender-based expectations and assert the rise of more fluid understandings of masculinity. This exhibition highlights contemporary reimaginings of masculinity and the vastness of possibility within performances of gender.
Exhibition Programming
Masculinity Reimagined: Artist Panel Discussion sponsored by Creative Intelligence with artists Justin Korver and John Paul Morabito, and Josh Porter '19: Jan. 12, 6pm-7pm via Zoom – Watch the recording here
Gallery Hop/Closing Reception: Jan. 20, 5-8pm in Morlan Gallery

Curator talk with Josh Porter '19 6‑7 pm
Admission
Exhibitions are free to the public. Parking can be found behind the Mitchell Fine Arts Center located at the corner of W. 4th St and N. Upper St.
Hours: Mon.‑Fri., 12‑5 p.m.
Morlan Gallery COVID‑19 Rules and Procedures
All visitors must follow Transylvania University Healthy at Transy policies while visiting Morlan Gallery.
Visitors showing signs of illness at any time will be asked to return when they are healthy.
Visitors are encouraged to use provided hand sanitizer upon entry, and socially distance while in the gallery
Morlan Gallery Mailing List