Morlan Gallery
Current Exhibition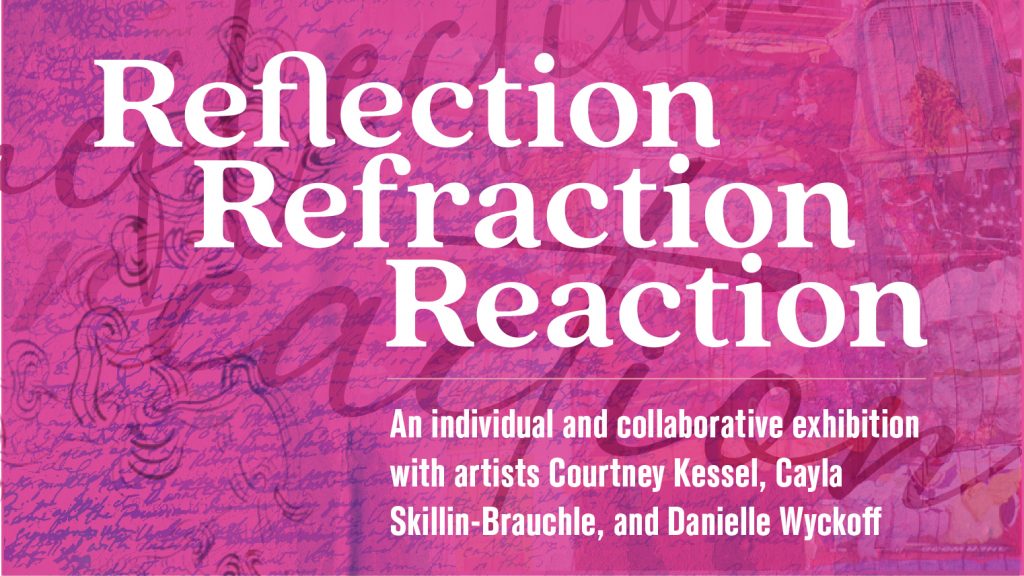 Reflection Refraction Reaction
October 25 – December 3
An individual and collaborative exhibition with artists Courtney Kessel, Cayla Skillin-Brauchle, and Danielle Wyckoff
The artists in this exhibition find common threads through feminist frameworks: their works and practices, both individual and collaborative, prioritize communication, collaboration, and care although each may manifest in wildly different ways. Whether through a respect for the distinct properties of materials as shown in sculptural and installation work, to the use of dialogue and interaction in performative work, to works on paper developed in meditative moments, to gazes and spaces documented photographically, and to zines crowdsourced to tell a fuller story and to initiate political change, the artists offer exhibition participants moments of consideration and conversation, moments of directional shifts, and moments of mutual action to create something new: reflection, refraction, reaction.
Exhibition Programming
Panel Discussion with artists and Emily Goodman: Online via zoom Thursday, Oct 28, 6-7 p.m. A Morlan Gallery and Creative Intelligence Event – Register / View Here
Zine-making Workshop / Performance: Thursday November 11, 3 p.m.-5:30 p.m.
Admission
Exhibitions are free to the public. Parking can be found behind the Mitchell Fine Arts Center located at the corner of W 4th St and N Upper St.
Hours
Monday – Friday, 12 p.m.-5 p.m.
Morlan Gallery COVID-19 Rules and Procedures
Face masks must be worn by all visitors while on the Transylvania University campus including Morlan Gallery
Capacity is reduced and controlled to 10 visitors at any time.
Visitors showing signs of illness at any time will be asked to return when they are healthy.
Visitors are encouraged to use provided hand sanitizer upon entry.
Social distancing is required and will be enforced. Classes larger than 10 individuals wishing to visit the gallery together must contact Anthony Mead, director of the Morlan Gallery, at amead@transy.edu in advance to schedule an appointment.
Morlan Gallery Mailing List