Healthy at Transy

2021-22 Academic Year Guidelines
Transylvania University's Healthy at Transy action plan prioritizes individual empowerment and community responsibility among our students, faculty and staff. As we return to campus for the 2021-22 academic year, we are optimistic that we can resume the best possible campus experience for our students, employees and visitors.
Transylvania is planning to return to a full schedule of activities and events, including athletics, speakers, performing arts and student life programs. These guidelines take into account the continued presence of COVID-19 and include proactive steps, as well as temporary mitigation measures when needed, to ensure the health and safety of our community.
The following Healthy at Transy protocols reflect current federal, state and public health guidelines and may be updated as needed.
Healthy at Transy 2021-22 Highlights (updated Sept. 22):
Transylvania will require all students and employees to be fully vaccinated by October 13. View the full guidelines for information on requesting an exemption.
Beginning Thursday, Aug. 5, until further notice, all employees, students and visitors to campus will be required to wear a mask in common and public spaces inside buildings regardless of whether they are fully vaccinated.
Students and employees who are not currently fully vaccinated will be required to complete both return-to-campus and ongoing biweekly testing and will be required to quarantine following a known exposure.
Student-athletes will be required to follow the guidelines set by the NCAA, which currently require either a full vaccination or weekly PCR testing (paid for by the student).
All visitors to Transylvania's campus are required to follow the same guidelines as students and employees for mask usage on campus. We strongly encourage all campus visitors ages 12 and older to be fully vaccinated or have received a negative COVID-19 test within 72 hours prior to arriving on campus. View the full visitor policy here.
Read the full guidelines for 2021-22 here.
Our Healthy at Transy guidelines continue to be based on advice we receive directly from public health experts, including the Lexington-Fayette County Health Department and the Kentucky Department for Public Health. They are also based on public health guidance from the Centers for Disease Control and Prevention and the medical and public health experience of individual advisors working with Transylvania. The university reserves the right to modify these policies at any time consistent with our mission as an institution.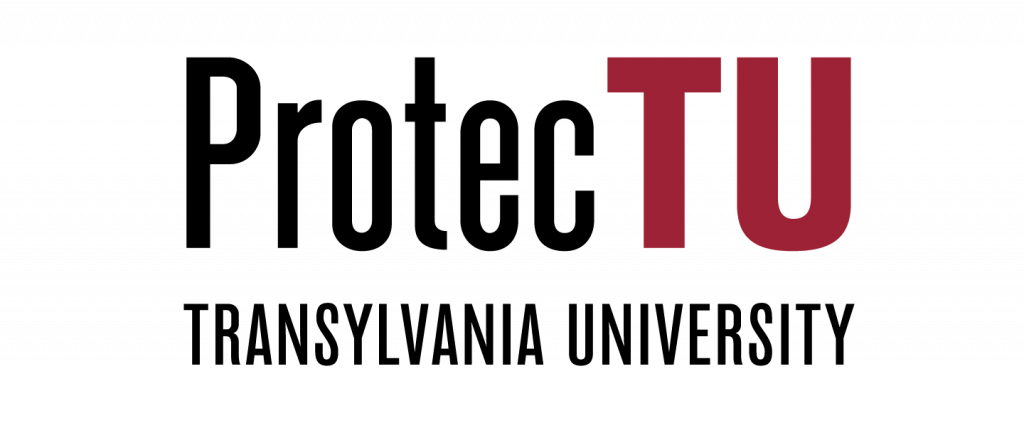 Transylvania is launching a new campaign called ProtecTU to educate, encourage and incentivize members of the school community to get vaccinated for COVID-19.

Updated: Friday, Aug. 27, 2021, 1 p.m.
COVID-19 Reporting Dashboard
Vaccination Clinics
Sept.
23
Noon – 5 p.m., Campus Center

Sept.
30
Noon – 5 p.m., Campus Center
Oct.
7
Noon – 5 p.m., Campus Center