We are experiencing technical difficulties. We will try to get our regular site back up as quickly as possible. For now, we have all of the most important information in one place for you! Thank you for your patience.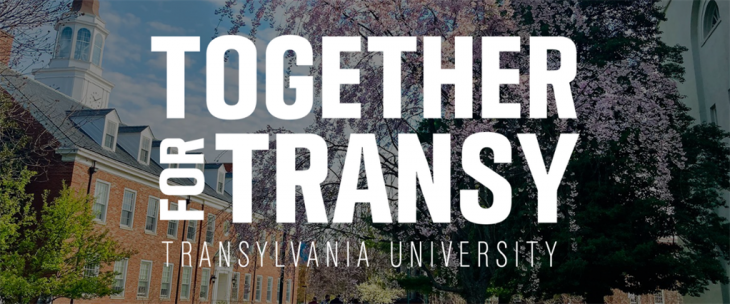 Our sixth annual day of giving is fast approaching! Every year alumni, students, families, employees, and supporters join together to support every facet of campus, including:
The Transylvania Fund
Scholarships
Diversity, Equity, Inclusion, and Justice
Athletics
Entrepreneurship
Academic Programs
Campus Accessibility
And more!
Last year we raised $479,807 from 916 gifts, surpassing the previous total by more than $60,000. The challenges, competitions, and naming opportunities you've grown to love will return. Will you help break our giving records, bring in new donors, and celebrate generosity this year?
Make sure you're following us on Facebook, Instagram, and Twitter for updates throughout the day. And check out the Ways to Help page for opportunities to show your support and create your own challenge!
Timed Challenges
You'll want to set your alarms for these! You only have a limited window to participate and take advantage of all the fun and added impact offered.
Heart and Sole 3 p.m.
The sock tradition lives on with this year's design giving off some spooky Friday the 13th vibes. What better way to show your school pride than by supporting scholarships and sporting some spirited new footwear!
Challenge: ​The first 200 donors to make a gift of $25 or more beginning at 3 p.m. ET will receive a pair of Transy socks. Bonus! Students can give at the $20.22 level to receive socks.
Notes: Gifts made are tax deductible minus the cost of the socks.
Power Hour 5-6 p.m.
Raf's Race will be in full swing throughout the day, but we want to take an hour and go all out for our Pioneers! Whether you're athletic alumni, parents, or a supporter, you can donate to the program of your choice.
​Challenge: ​How many athletic supporters can we get from 5:00 p.m. to 6:00 p.m. ET? Choose your affiliation on the giving form and make a gift to the area of your choice!
Beat the Clock 11 p.m. – 3 a.m.
From the East Coast to the West and everywhere in between, we want to make sure you have a chance to give during Together For Transy! The day will not end until the clock strikes midnight in your time zone.
Challenge: If you haven't made a gift yet and time is running out, contribute during our Beat the Clock challenge to help finish the day strong!
All Day Challenges
You have from 12:00 a.m. ET until 11:59 p.m. in your time-zone to complete these all day challenges. There are some incredible opportunities to double your gift, unlock challenge dollars, and more!
Trustees Challenge
We have a chance for you to double the impact of your gift! The Trustees Challenge will match your gift dollar-for-dollar, up to $100.000. Will you help ensure every student has the scholarships, social and academic support, and professional enrichment needed to attend Transylvania, succeed after graduation, and carry the Pioneer spirit?
Sponsor: Numerous Board of Trustees Members
Challenge Total: $100,000
On the Map
With your help, we can unlock a $500 gift for every state we receive a gift from during the day. This is a giving day favorite, and a great way to show just how widespread our Pioneer family is! Will you help us get all 50 states?
Sponsor: Anonymous Transylvania Supporter
Challenge Total: $25,000
Wings Up Challenge
You can be a team player and help the General Athletics fund receive a $25,000 donation by making a gift to any athletic program or initative! Gifts will be matched, one-to-one, with this donation. Will you help us score this gift?
Sponsor: Anonymous Pioneer Fan
Challenge Total: $25,000
Scholarship Challenge
The vast majority of students at Transy would not be able to attend without scholarships. And without donor support, Transy would not be able to offer the generous scholarship packages we do now. Donations to scholarships will be doubled during giving day, allowing more students to attend at a rate they can afford.
​Sponsor: 3 alumni from the 1980s and 1990s
Challenge Total: $20,000
Academic Challenge
Last year the Business Administration alumni and students took the top spot in our Academic Challenge, followed by Psychology and Biology. Now we're upping the ante, and our sponsors will award a $2,500 gift to each of the top four participating majors! Stay tuned throughout the day to see who is on top via our scoreboards.
Sponsors: Mac '92 and Jessica Thompson '94
Challenge Total: $10,000
Diversity, Equity, Inclusion, and Justice Challenge
When you support Diversity, Equity, Inclusion, and Justice funding this giving day, your donation will be doubled! You can help ensure Transy's diverse body of students has access to tools, education, programming, and resources that highlight and support those of all backgrounds and experiences.
​Sponsor: An Anonymous Alumna
Challenge Total: $10,000
Entrepreneurship Challenge
When you give to the new Entrepreneurship program on May 13, your gift will be matched. The funding will engage students with extracurricular, experiential programs and events, including start-up business funds, speaker honorariums, pitch competition funding, and the Center for Entrepreneurship awards.
Sponsor: Britt Reynolds '85, Todd Clark '90, and an Anonymous Donor
Challenge Total: $10,000
Pioneer Pairs Challenge
Did you know Pioneer Pairs are two married Transylvanians? And did you know when a Pair makes a gift, we get to count both in our alumni participation rates, which helps our national rankings and chances at certain grants? Several of our Pioneer Pairs have teamed up to challenge other couples to participate in Together For Transy and will donate $2,500 for every 25 couples giving. BONUS! All PIoneer Pairs who give on May 13 will be entered to win an on-campus photo shoot!
Sponsors: Bill '73 and Judy Bramblet '75, Matthew '05 and Erin Roth '05, Michael '91 and Kara Covert '90, Bob '79 and Audrey Kaftan '82, Vince '89 and Natasa Mongiardo '96
Challenge Total: $10,000
Field Hockey Challenge
When you make a gift in support of Field Hockey today, your gift will be matched! Last year, the Field Hockey team took home the Raf's Race title; what will they do this year? And will you be a part of it?
​Sponsor: Anonymous Fan
Challenge Total: $5,000
New Donor Challenge
Are you an alumni and considering making your first ever gift to Transy? This is the perfect motivation! No matter the size of your gift, you can help unlock generous donations from your fellow classmates. Every 25 new donors will result in a $1,000 donation from our alumni leaders! You pick the area and choose the amount; they'll make a gift in celebration!
​Sponsor: Transylvania Alumni Board and Young Alumni Council
Challenge Total: $5,000
We Missed You Challenge
One of the best things about Transy alumni is the Pioneering spirit—the commitment to bettering our alma mater. We are grateful for those who invest annually in the mission, and want to encourage those who have given in the past—but not yet this year—to make a gift during Together For Transy! This challenge will be unlocked after 500 alumni donors renew their support.
​Sponsor: Transylvania Alumni Board and Young Alumni Council
Challenge Total: $5,000
Accessibility Challenge
Earle '71 and Cathy O'Donnell are strong advocates for easy campus accessibility for all individuals. Although Transylvania's Campus Center renovation included the cost of ADA compliance, the O'Donnells recognized that basic compliance and true ease-of-use often hold different definitions. With this in mind, they are challenging alumni and friends during Together for Transy to help equip Campus Center spaces with additional sensors and technology. This will enable the most dignified handi-capable access possible. As an example, the challenge's success will allow push-button poles and cardswipe software to be added to the Counseling and Health/Wellness entries to ensure easy wheelchair navigation in the spaces.
The O'Donnells will match each dollar collected today for this purpose, with a goal of $4,169 coming from alumni through this challenge, to be doubled by the match.
Transylvania's class of 2022 has also joined the O'Donnells in a 2-for-1 match for their Senior Challenge gift, to be dedicated to this purpose as well.
​Sponsors: Earle '71 and Cathy O'Donnell
Challenge Total: $4,169
Athletic Challenge
With this challenge, we'll measure how many dollars are given for each athletic program and its projects. The program with the most dollars raised will receive a $500 budget bump, and the two programs in second and third place will each receive $250 budget bumps! Which Pioneer team has the most spirit?
Sponsor: Pioneer Supporter
Challenge Total: $1,000
Ways to Help
Are you following along on social media? The Alumni & Development Office is on Instagram, Facebook, and Twitter. You can also find the Transylvania University main accounts by clicking the following links: Instagram, Facebook, and Twitter. Social media accounts will serve as sources for all things #TogetherForTransy!
We encourage you to make your posts sharing why you give, what makes Transy important to you, or the impact scholarships have had on you. We'll also be giving away prizes throughout the day to folks who share their own messages and tag us!
You can Create Your Own Challenge by posting on social media and tagging us or sending an email to giving@transy.edu.