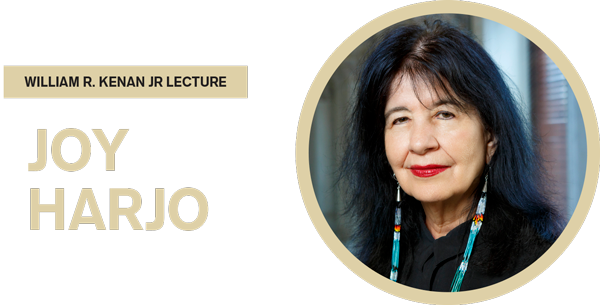 The William R. Kenan Jr. Lecture Series
presents
U.S. Poet Laureate Joy Harjo
"Bridging Chasms"
March 23, 2022, 7:30 p.m.
U.S. Poet Laureate Joy Harjo will give Transylvania's 2022 William R. Kenan Jr. Lecture. She is an internationally renowned performer and writer of the Muscogee (Creek) Nation.
Harjo is the author of nine books of poetry, including the highly acclaimed "An American Sunrise," several plays and children's books and two memoirs: "Crazy Brave" and "Poet Warrior." Her many honors include the Ruth Lilly Prize for Lifetime Achievement from the Poetry Foundation, the Academy of American Poets Wallace Stevens Award, two NEA fellowships and a Guggenheim Fellowship. As a musician and performer, she has produced seven award-winning albums including her newest, "I Pray for My Enemies." She is exec­u­tive edi­tor of the anthol­o­gy "When the Light of the World Was Sub­dued, Our Songs Came Through — A Nor­ton Anthol­o­gy of Native Nations Poet­ry" and the editor of "Living Nations, Living Words: An Anthology of First Peoples Poetry," the companion anthology to her signature poet laureate project. Additionally, Harjo is a chancellor of the Academy of American Poets, board of directors chair of the Native Arts & Cultures Foundation and the first artist-in-residence for Tulsa's Bob Dylan Center. She lives in Tulsa, Oklahoma.
---
Program
Welcome
Brien Lewis
President
Introduction of the Speaker
Lindsey Steffen
Transylvania University Student Government Association President
U.S. Poet Laureate Joy Harjo
"Bridging Chasms"
Question and Answer Session
Rebecca Thomas
Vice President for Academic Affairs and Dean of the University
Please text questions to ‪(859) 429-1452.
Book purchases and signed bookplates will be available in Carrick Theater.
Previous Kenan Conversations
2019 Sir Salman Rushdie, "On Civility"
2018 Pulitzer Prize-winning author Tracy Kidder and Deogratias Niyizonkiza, on the subject of the book "Strength in What Remains"
2017 Claudia Rankine, award-winning poet and National Book Award finalist, "Citizen: An Evening with Claudia Rankine"
2015 Robert F. Kennedy Jr., "Green Capitalism: Why Environmental Policy Equals Good Business Policy"
2014 Ronald Mallett, physicist, "The Real Science of Time Travel," and Eric Klein, philanthropist, "The Power of One"
2013 Michele Norris, NPR host and special correspondent, author and originator of The Race Card Project, and Peter Bergen, award-winning print and television journalist, educator and author