Carmilla: A Vampiress Radio Play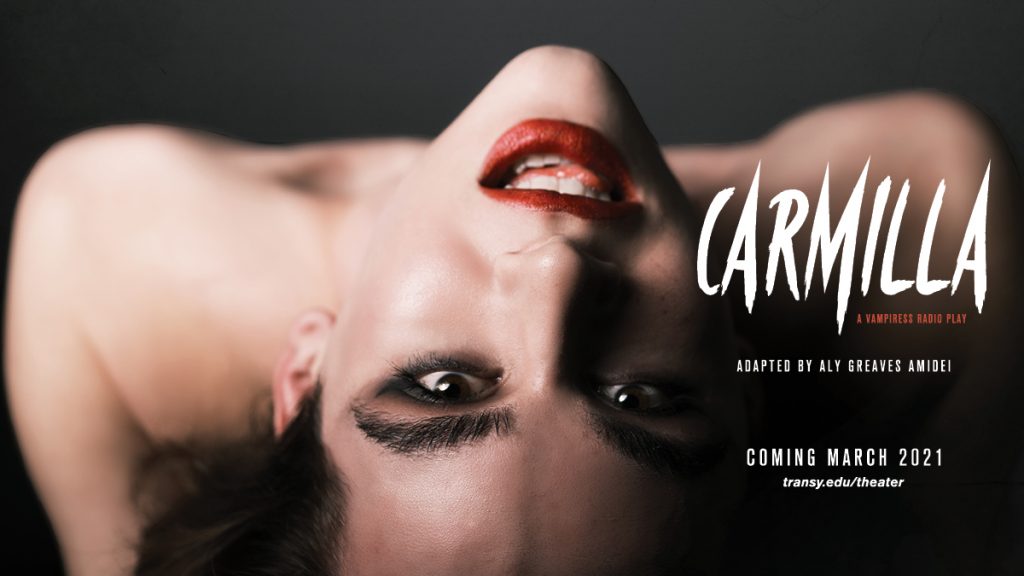 Coming for you in March 2021…
Carmilla: A Vampiress Radio Play, adapted by Aly Greaves Amidei, original short story by J. Sheridan Le Fanu.
Before Dracula…there was Carmilla.
Female vampires unleash themselves in this Victorian story of horror and desire. A young woman living in a remote castle becomes intrigued by a mysterious house guest, the enigmatic Carmilla. As the neighboring countryside and villages fall victim to a series of unexplained grisly murders, young Laura finds herself swept up in a whirlwind of forbidden passion quite extraordinary for a 19th-century woman.
Episode 1: March 19
Episode 2: March 26
Episode 3: April 2
Directed by Tosha Fowler and Madison Plowman
Sound direction by Daniel Bennett
Music composition and production by Tammy Ray and Ben Sexton
Performed by the students of the Transylvania Theater Program
Carmilla Cast and Crew:
Directors – Tosha Fowler & Madison Plowman
Technical and Sound Director – Daniel Bennett
Stage Manager – Haley Tarter
Post Production Editing – Daniel Bennett
Mask Design and Construction – Missy Johnson
Music Composition and Production – Tammy Ray and Ben Sexton

Cast:
Laura – Eileen Bunch
Carmilla (Millarca/Mircalla Karnstein) – Scottie Gussler
Bertha Rheinfelt – Alessandra Lundberg
Madame Perredon – Ephraim Page
Mother – Paige Barricklow
Janna / Young Laura – Cambron Johnson
Doctor Hesselius – Elizabeth Salamanca
Father – Tanner Peck
General Speilsdorf/ Baron Vordenburg – Ben Sexton
Andrej (Ranger) – Kiki Higgins
Martin – Matthew Mims
Henri – Antoinette Gilas
Matska / Peasant Woman – Skylar Hensley
Peasants – Ensemble
Live Sound Effects Artists
Anne Elizabeth Forker
Kevin Johnson
Emma Laird
Ephraim Page
Elisabeth Sabourin
Elia Zonio
Remote Sound Effects Artists
Ian Valencia-Miranda
Jacob Ranzau
Sab Kostenbader
Musical Performances
Paige Barricklow – Oboe
Skylar Hensley – Additional vocal performance
Tammy Ray – Piano, Keyboard, Violin
Elizabeth Salamanca – Flute
Ben Sexton – Violin, Viola, Keyboard
Mask Construction
Samantha Sadler
Paige Lemaster
Railsplitter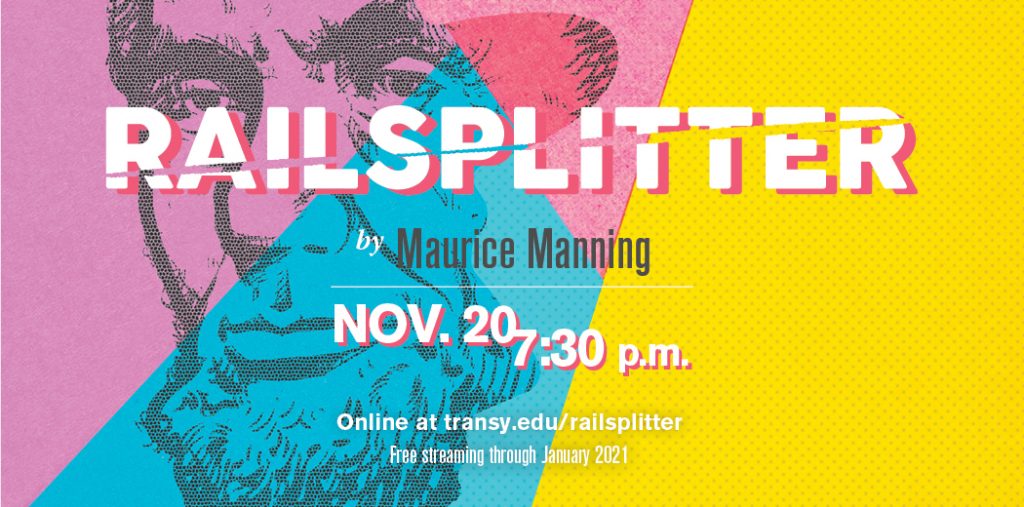 Transylvania University Theater, in partnership with Maurice Manning, an esteemed American poet, Guggenheim Fellow, Pulitzer Prize finalist and professor of English, presents a performance adaptation of his latest book of poetry, "Railsplitter."
Railsplitter speaks, through poetry, in the imagined posthumous voice of Abraham Lincoln… Invoking Lincoln's apparent belief 'in the value of whim and wonder,' historical narratives and philosophical ponderings alike are set to the music of lyric and the bounce of rhyme.

Copper Canyon Press
Through this filmed, online performance, the theater program asks the question: How does the mythology of Lincoln speak currently through us, expressed by Manning's words?
Railsplitter is a collection of 31 short interpretations of Manning's poems — ranging from straight recitations of the lines to music videos. A choose-your-own adventure style of online theater performance, the production crew boasts of more than 10 directors, working with over 40 performers, including students, faculty, staff and alumni, put together by eight student video editors.
Watch for our 2021-2022 Season coming soon!
Senior Showcase, November 2021
Our senior theater students are bringing an entire performance to the stage, from choosing the show to directing and designing it.
New Play Staged Reading, Winter 2022
We'll explore a new and inclusive theatrical work while bringing together professionals from the community and Transylvania students
Costume Fashion Show, March 2022
Our long-time costume designer is retiring next year. We are honoring her and her work by putting together a fashion show to celebrate favorite designs on and off the Transylvania stage.
Fun Home, May 2022
The Tony Award winning musical comes to the stage during May Term 2022.