200+ and counting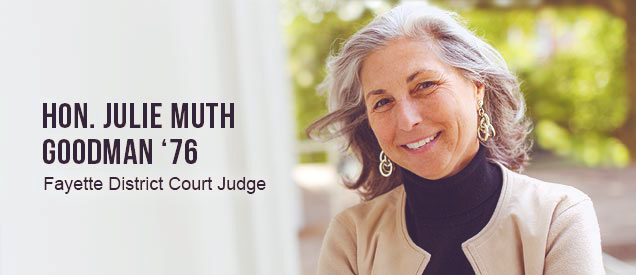 When you ask Julie Goodman how mentorship played a role in her 34-year career in law and eventually to the bench as Fayette District Court Judge, she doesn't hesitate to go all the way back to her college experience at Transylvania. She developed a mentor-mentee relationship with her English professor, Helen Irvine, that was paramount to her decision to pursue her dream.
"Back then there was still this idea that women had a certain place, and she showed me that it isn't true," Goodman says. "She showed me that nothing was impossible, and if I truly worked hard enough and wanted something badly enough, I could achieve it."
It wasn't long before Goodman got to return that favor around the time she earned her J.D. from the University of Kentucky.
"We had become friends by then, and she talked to me about wanting to go back to school to become a lawyer," Goodman says about Irvine. "She said, 'But I'm 50, and I'll be 53 when I get out.' I said, 'Dr. Irvine, you'll be 53 anyway. You might as well do what you want.'"
Irvine left Transylvania to go to Harvard Law School and practiced law for 20 years after that. It's an example of the kind of two-way mentor relationship Goodman hopes to foster with Transylvania students.
"I don't see mentoring as something that happens just while they're there," she says. "I hope it grows. I suspect that I will learn a great deal from them."
---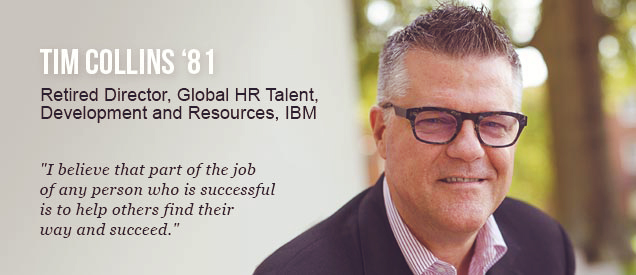 Tim Collins built his career around relationships. He's retiring from just over 30 years in human relations, working with Procter & Gamble and, most recently, serving as a director at IBM in New York City.
It's a field that places a tremendous value on interaction and developing talent, and as a mentor with Transylvania's 100 Doors to Success program, Collins plans to use his experience to help students "find their way."
"Over my 30-plus-year career, I have benefitted from the counsel of many people," he says. "I believe that part of the job of any person who is successful is to help others succeed."
Collins—who counts a number of Transylvanians as his earliest mentors—chose to join the program as a way to give back to the university that first put him on the path to success.
"They shaped my trajectory by knowing and caring about me," he says. "They really got to know me and what made me tick and what I could achieve. They helped encourage me to see things I couldn't see. I want to encourage today's students to be lifelong learners and realize that the liberal education they're getting is all about people and relationships and helping others succeed."
---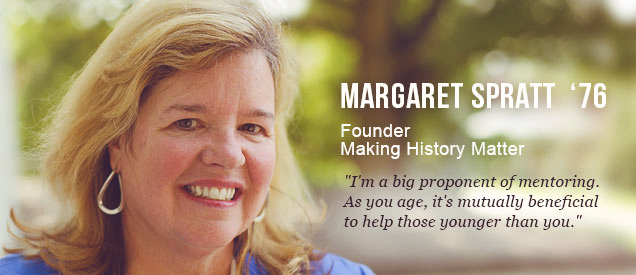 Margaret Spratt can already anticipate one of the most important questions she'll get from students as a mentor with the 100 Doors to Success program—"What can I do with my Transylvania education?"
She already knows her answer—"Anything."
Spratt graduated from Transylvania with a degree in history, a field that has taken her career all over the country as a professor, policymaker, researcher and now, back in Kentucky, a documentary filmmaker. She is currently producing a series on America during World War I with Making History Matter, the business she started.
"History isn't the most popular major on college campuses because students think, 'What can I do with that?'" she said. "They don't know what they're going to do with their lives, and they don't know what their next step is going to be. College is a time where you're finding out who you are, and I think a mentor can help with that process—if nothing else just to give you the confidence you need to take those steps to find out who you want to be."
She remembers vividly learning that lesson while at Transylvania. At the time, there were not many women in the field of history. But she connected with a part-time faculty member named Susanne Lowitt, who showed her that her passion could be a realistic career option.
"I had a role model," she said of Lowitt. "I realized that I, too, could be a history professor. She spent a lot of time with me. She was a great mentor."
Lowitt eventually encouraged Spratt to apply for graduate school at Duke. Spratt says she'll always be grateful to Lowitt for helping her to see the possibilities that were out there, and she hopes to do the same for future mentees.
"Whether you're a history major, a biology major or a theater major, none of that really matters to me as your mentor," she said. "I want to help you ask the right questions and make some good decisions."
---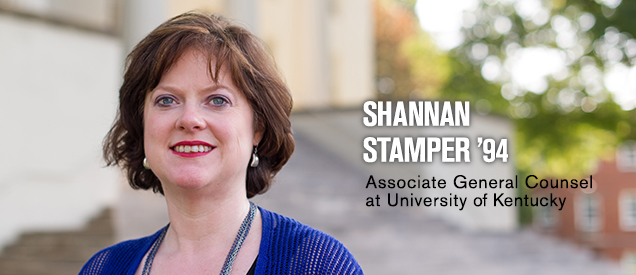 Shannan Stamper '94 has always taken full advantage of her Transylvania experience as it's pertained to her career in law. Her laundry list of influences reads like a who's who of Pioneers. She's the daughter of two Transylvanians—Ernie '67 and Georgia Green '67 Stamper—and the older sister of Georgia Stamper Brown '97. She studied extensively for the LSAT with political science professor Don Dugi. She was encouraged to leave her Kentucky home and attend Harvard Law School by former history professor Paul Fuller. And after earning her J.D., she clerked with fellow graduate Judge Karen Caldwell '77, whom she counts as one of the most important mentors she's ever had.
"She was very helpful in encouraging me to find what I enjoy doing, do it well, and enjoy life overall," Stamper says. "Great mentors show you not only how to approach your career, but how to approach the balance of your career and the rest of your life."
Now associate general counsel at the University of Kentucky, Stamper is excited to be able to use her wealth of experience to help guide the next generation of Transylvania students looking for direction. Whether it's with students interested in law or in any other fields, she hopes to help them navigate the important balance of a successful career and a fulfilled life.
"I want to encourage a mentee to not only find something that they enjoy and feel like they can excel at, but also contribute something to our community and our society by doing so," she says. "And most of all, I want to encourage them to enjoy the life they're living right now."