Protecting the Transylvania Family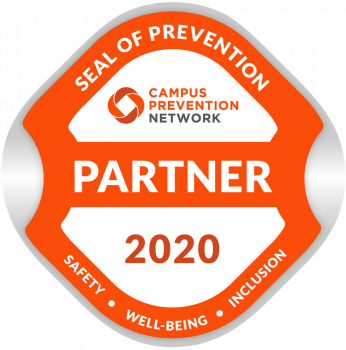 Because knowledge is power, we've created programs to better prepare our campus community to look out for one another, to be sensitive to diverse perspectives, and to build awareness of the best way to approach situations. These are tools for a lifetime.
Transylvania University received a 2020 Campus Prevention Network Seal of Prevention. This honor recognizes our outstanding digital prevention work and campus contributions related to safety, wellness, and inclusion.
The programs listed below are in the order in which they roll out during the academic year.
Green Dot (Bystander Accountability Training)
Available to the Transylvania community since 2010, the Green Dot program originated at the University of Kentucky and has become an international program to teach students how to step in and defuse high risk situations. Issues addressed include bullying, domestic violence, sexual assault, and stalking. Green Dot is a way to help students develop the tools to take care of each other.
Green dots are the proactive steps we all can take to diffuse potential violence: direct, delegate, and distract.
Red dots are the acts of violence. They range from a social media post or off-color joke that makes someone uncomfortable to seeing a drunk friend leave with someone you don't know or leave to drive when drunk.
All first-year students receive a basic introduction to the Green Dot program during August term. It's one of four campus-wide training sessions that occurs every year. A full, 4 hour Green Dot training is required for all members of Greek organizations by their governing bodies.
October is Domestic Violence Awareness Month
Awareness on campus is generated through "These Hands Don't Hurt." This year over 80 people participated by pledging "I will not use this hand for violence" and vowing to help their friends if they thought they were in unhealthy relationships.
January is Stalking Awareness Month
Students have the opportunity to take quizzes to test their knowledge of stalking and learn about protecting their privacy on their social media accounts.
March Focuses on Raising Awareness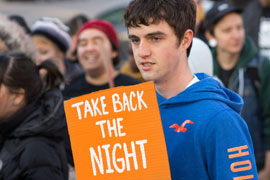 Transylvania recognizes Kentucky's Sexual Assault Awareness month. In recent years, activities have included the Clothesline Project, for which students paint messages representing someone's story or experience on colorful T-shirts, which are then displayed in the cafeteria; inviting speakers to campus who can talk about gender or women's issues and participating in the annual Take Back the Night march sponsored by the University of Kentucky.
April is Sexual Assault Awareness Month
Each April, Tranlsyvania partners with the city of Lexington for Wake Up, an annual awareness event.  This event, co-created by Transylvania University, has grown each year and highlights the prevention network in Lexington and the culture of awareness.
Ongoing Training Opportunities
Staff members are available to tailor presentations to specific needs of classes and organizations. They address domestic violence, stalking, sexual violence, and bystander intervention.
Read more about other campus efforts to build awareness and deepen understanding of diverse perspectives.
Reporting Violence
Despite all of our efforts to educate and protect our students, bad situations can occur. Transylvania is compliant with Title IX of the Education Amendments of 1972, which prohibits discrimination on the basis of sex. We encourage all students to report immediately sexual harassment, sexual misconduct, sexual assault, a hostile environment, or discrimination based on gender or sexual orientation. Transylvania has the duty to take immediate and effective steps to respond to complaints.
Students can talk to residence advisors or any student life staff member; contact Transylvania's Title IX Coordinator (Amber Morgan, file a Title IX grievance or file a crime report with Transylvania's Department of Public Safety.