Housing Options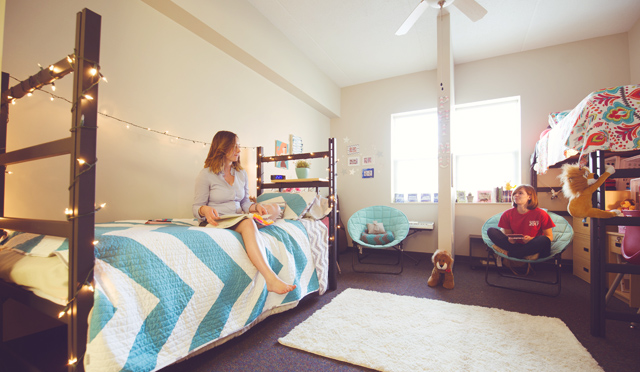 Whether you live in a traditional residence hall, an apartment or one of our suite-style residences, living on campus can be a highlight of your college experience. Your residence halls are minutes away from classrooms and the library—not to mention great restaurants, coffee shops and night spots.
Transylvania's housing options are below. After your first year, you can choose a residence hall based on your preference for double, single or suite-style living or your preferred activity level. See more about our residence halls.
Rosenthal Apartment Complex—42-unit apartment complex for male Greek students.
Poole Residence Center—Suite-style living for upperclass students.
Thomson Hall—Apartment-style living units for upperclass students, with several environmentally friendly features.
Hazelrigg Hall—Private rooms for upperclass students with 24-hour quiet time.
Dalton-Voigt Hall—Suite-style living for upperclass students.
Bassett Hall—Suite-style living for upperclass students.
Pioneer Hall—Suite-style living for upperclass students.
Fourth Street Apartments—45 one- and two-bedroom units for upperclass students.
331 N Broadway House—4 two-bedroom apartments with kitchen and private bathroom.
All students are required to live on campus unless certain conditions are met. See the campus housing requirements for details.
Life at Transylvania
Your residence hall room serves as an office, bedroom and living room, but there are other "living rooms" all over campus. From a cup of coffee at Jazzman's to shooting pool in Back Lobby, you'll find plenty of spaces you can turn into your own personal social spot.
Throughout the year you'll find activities such as outdoor concerts and picnics, Transy Night Out trips to the historic Kentucky Theater or a Lexington Legends baseball game or day trips to hike, kayak and rock climb at the famous Red River Gorge. After all, there's more to college than studying, right?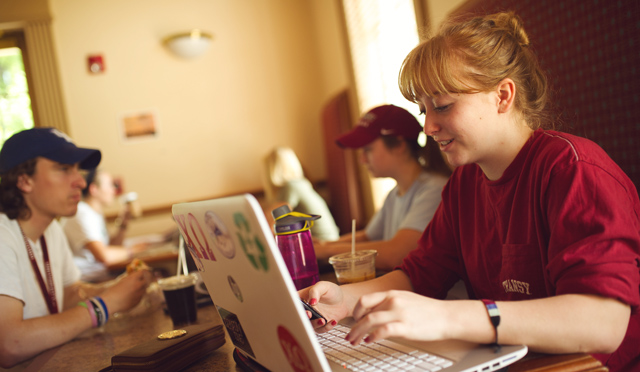 Living Off Campus
Commuter students are also encouraged to get involved in activities outside of the classroom. Make Transylvania your home away from home, and find out more about campus engagement opportunities.
Parking
Although you don't have to have a car on campus to get around, students may obtain a parking permit to park in any general parking lot on campus. Parking permits may be obtained at any time during the school year. For more information contact the Department of Public Safety at (859) 233-8118.
Transylvania's dining service provides three meals a day in Forrer Dining Center for resident and commuter students, faculty and staff and campus visitors. Breakfast and lunch are also served in the Rafskeller Grill. In addition, students may put money on their Crimson Card that may be used in Forrer Dining Center, the Rafskeller and Jazzman's cafe.
Computer Labs
Computers for commuter student use are available 24 hours a day in Forrer, Hazelrigg and Poole Halls.
Laundry
Laundry facilities are available in every residence hall. Wash Alert allows residents to see when machines are available using the internet and mobile app. Commuters can use laundry facilities in Forrer Hall. Machines cost $1.25 to wash or dry and accept coins and Crimson Cards.
Study Areas
There are a number of study areas on campus available to students including space in the library, campus dining facilities, the campus center, and some residence hall lobbies including Forrer, Thomson and Dalton-Voigt.​
Mail Service
Mailboxes for all residential students, Fourth Street Apartment residents, and commuters who request a campus mailbox, are located in Forrer Hall. Packages are distributed from the Post Office in Morrison.