Esports at Transylvania
Competitive gaming has come to Transylvania University.
Transy has its first esports team, giving students a chance to get in on a billion-dollar industry in a brand new, state-of-the-art gaming arena in Thomson Hall.
Our esports players hone their gaming skills while developing their communication, cooperation and quick thinking to perform at their best. You'll compete in tournaments against other schools for real prizes and bragging rights.
Games for 2022-23 include:
League of Legends
Overwatch
Valorant
Rocket League
Viewing parties will be held for all Transy Esports matches.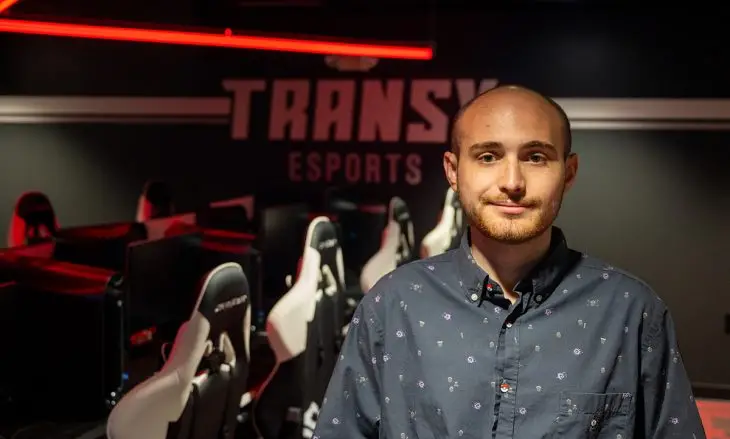 Esports arena
12 Alienware Aurora R12 PCs
11th Gen Intel core i7 11700F
NVIDIA GeForce RTX 3070 Ti 8GB GDDR6
16GB dual channel DDR4 XMP @3200MHz Alienware 240 Hz IPS, free-sync, G-SYNC compatible 25" Monitors
HyperX keyboard/mouse
Xbox controllers
All free to use for students during open arena hours
Arena open hours:
Sunday: CLOSED
Monday: 7-10 p.m.
Tuesday: 9-10 p.m.
Wednesday: 7-10 p.m.
Thursday: 7-11 p.m.
Friday: 7-11 p.m.
Saturday: 7-11 p.m.
Contact
Dylan Osborne
Esports Coach
dosborne@transy.edu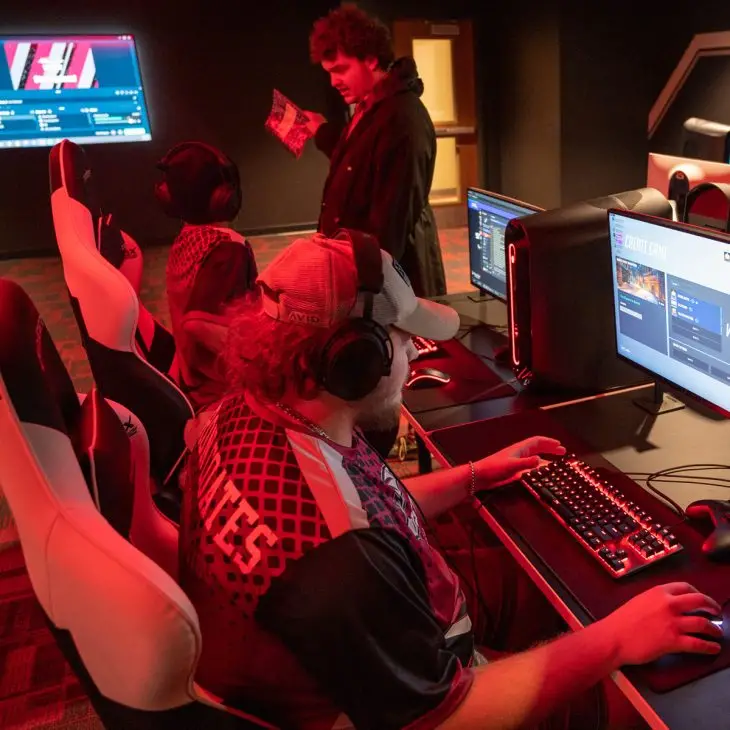 Esports Rosters
Carson Calico
Aaron Coates
Josh Fee
Aspen Magill
Colin Martin
Maxwell Pendleton
Zen Santos
Noah Senninger
Priscilla Slone
Madalyn Stump
Tim Dousay
Spencer Lorenz
Tyler McAuley
Nate Miller
Chad Sweeney
Rylan Thomas
Michael Vandiver
Lucas Bosch
Cameron B Horine
David Schwab
Patrick Stiltner
Nicholas Tan
David William Flynn
Makayla Jordan
Nicholas Alexander Neagle
Kieran Pearson
Thomas Holocher
Carson Calico
Aaron Coates
Josh Fee
Aspen Magill
Colin Martin
Maxwell Pendleton
Zen Santos
Noah Senninger
Priscilla Slone
Madalyn Stump
Tim Dousay
Spencer Lorenz
Tyler McAuley
Nate Miller
Chad Sweeney
Rylan Thomas
Michael Vandiver
Lucas Bosch
Cameron B Horine
David Schwab
Patrick Stiltner
Madalyn Stump
Nicholas Tan
David William Flynn
Makayla Jordan
Nicholas Alexander Neagle
Kieran Pearson
Thomas Holocher