Diversity and Inclusion at Transy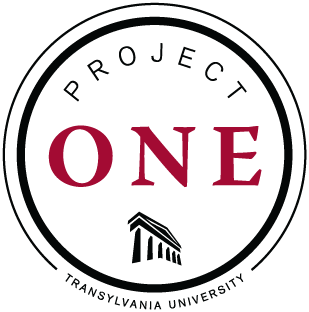 At Transylvania, we aim to foster a campus community characterized by compassion, respect, ethical concern and social responsibility. Students can learn to evaluate their own backgrounds in tandem with new ideas and ways of relating to others.
This is at the heart of a true liberal arts education. And in our Transylvania community we value the richness that comes from individual differences, including age, culture, education, ethnicity, exceptionalities, gender, geographical origin, language, politics, race, religion, sexual orientation and socioeconomic status.
Through Project One Transylvania seeks to deepen its already-strong commitment to a diverse and inclusive campus environment by weaving these values through campus and community engagement. Events and engagements are tagged with the Project One logo to readily identify our intentional commitment to equality and cultural competency.

What is diversity and inclusion?
Simply put: Diversity represents our differences; Inclusion is how we empower those differences. Diversity is what makes each of us different from one another: our race, ethnicity, gender, gender identity, sexual orientation, age, social class, physical ability or attribute, religious or ethical value systems, national origin and political beliefs. Inclusion involves the programmatic and organizational strategies that welcome and embrace the strengths each person brings to the community.
At Transylvania University, we recognize that inclusion is the involvement and empowerment of all our community members. At the center of inclusion the inherent worth and dignity of all people is recognized. An inclusive university promotes and sustains a sense of belonging; it values and respects the talents, beliefs, backgrounds and ways of living of all its members.
Non-Discrimination Policy
Transylvania University is committed to ensuring that the institution is free of harassment and discrimination on the basis of race, color, citizenship status, sex, age, disability, predisposing genetic characteristics, pregnancy, creed, sexual orientation, gender identity, gender expression, marital status, national or ethnic origin, religion or religious belief, veteran's status, or any other category protected by applicable state or federal law or local ordinance. This policy applies to, but is not limited to, recruitment and admission of students, recruitment and employment of faculty and staff, the operation of any of its programs, promotion, demotion, transfer, position advertising, reduction in force, termination, rates of pay, and selection for training. Consistent with this policy, the University does not tolerate discrimination or harassment of employees, students or other individuals associated with the University. This policy applies to all faculty, staff, administration, supervisors, employees, students, applicants, volunteers, and visitors to campus, including guests, patrons, independent contractors, vendors or clients of Transylvania University