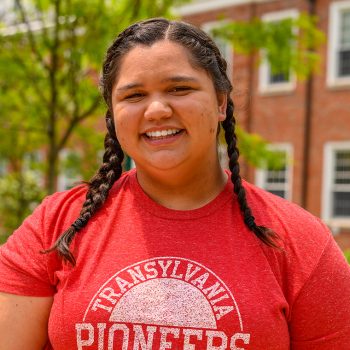 From the moment I first set foot on Transy's campus, I knew that I belonged here. The small campus was exactly what I was looking for in a college, and I instantly fell in love with the atmosphere. As I walked around the campus and sat in on a couple of classes, I knew more and more that this is where I needed to be.
Ever since move-in day my first year, I have not once regretted my decision to attend Transylvania University. More than just the size, I was drawn to its liberal arts education. As someone who is never certain about what I want to do with my life or what exactly I want to study, I knew that a liberal arts education would benefit my interests because I would be able to take a variety of classes that would meet all of my interests.
I spent my first year taking a mix of general education classes and classes that interested me (theater, education and sociology). It was in taking these classes that I realized just how difficult it would be to narrow down my interest of study to pick a major.
Along came Dr. Carole Barnsley to solve all of my problems. As my advisor, Dr. Barnsley has heard many of my indecisive thoughts and suggested that I look into designing my own major. And so I took the bait. With the help of Dr. Barnsley, Dr. Leslie Ribovich and Dr. Tiffany Wheeler, I was able to take all of my interests and combine them into a singular, interdisciplinary major.
Having these three professors advocate and support my academic pursuits was when I realized how much I truly belonged at Transy. Never before did I think that I would have three people, much less three faculty members I looked up to, push me to advocate for my own academic pursuits. The faculty here at Transylvania are truly the backbone of this institution; they make it special and make me, as well as countless other students, feel as if we belong here.