Only registered student organizations are permitted to hang banners in the Campus Center and only in designated, reservable spaces.
Banner space may only be reserved through the Faculty/Staff Advisor using the Ad Astra Reservation Request System to advertise an event open to the entire campus 48 hours prior to the requested seven-day hang time. 
Locations of Banners 
There are 10 Banner Locations (See Photos Below)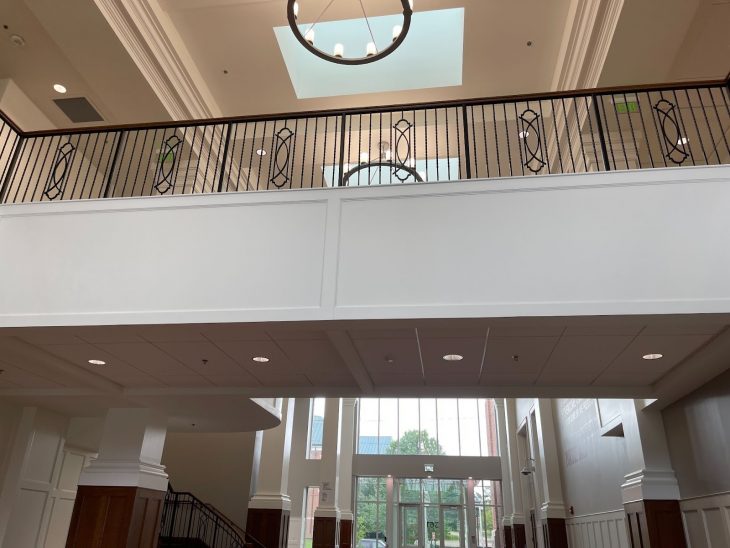 Banner space can be reserved through the Reservation Request System for a maximum of seven days per event in only one location at a time. Banners cannot be moved around during the week.
Registered Student Organizations can hang one banner for one week per semester.
Banners must be dropped off before 2 p.m. on Friday in the Campus Center dIrector's office. Banners will be hung on Sundays.
The Campus Center has the right to deny banner space if the banner is deemed to be in poor taste and/or in conflict with the mission and values of Transylvania University. Final determination will be made by the Director of the Campus Center and/or designee.
The requesting organization is responsible for making the banner.
Banners will be made on twin-sized flat bed sheets only. The sheet dimensions are 66 inches wide and 96 inches long. Twelve inches need to be left blank at the top of the banner for hanging purposes. The sheet must hang in portrait orientation.
Banners must list sponsoring organization, time, date, name and place of event.
In the Campus Center, diversity, inclusion and equity are central to our mission. As a practice represents, reflects, critiques and dreams for a culture. It is a discipline of creativity, criticality and expression. By its nature, art balances the examination of culture through humility and critical inquiry. It is with self-awareness and acknowledgement of diverse factions of intersectional identities, that we approach the making and scholarship of art through accountable virtues.
Any exceptions to this policy will be made by the Director of the Campus Center and/or their designee.