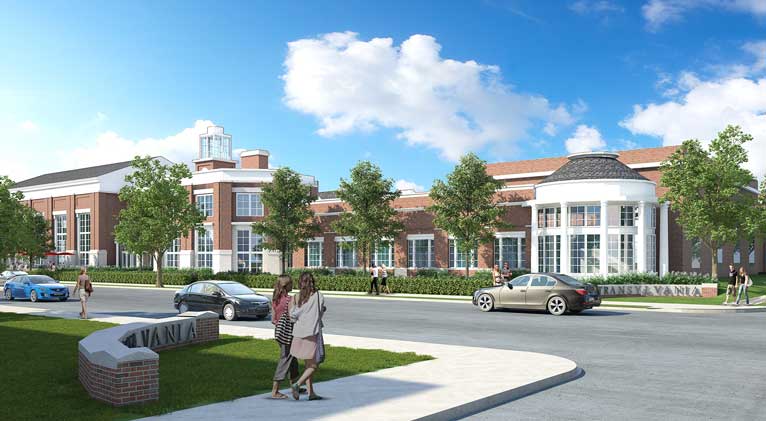 Campus Center Exterior
Re-visioning
The core of campus life
Opening Fall 2020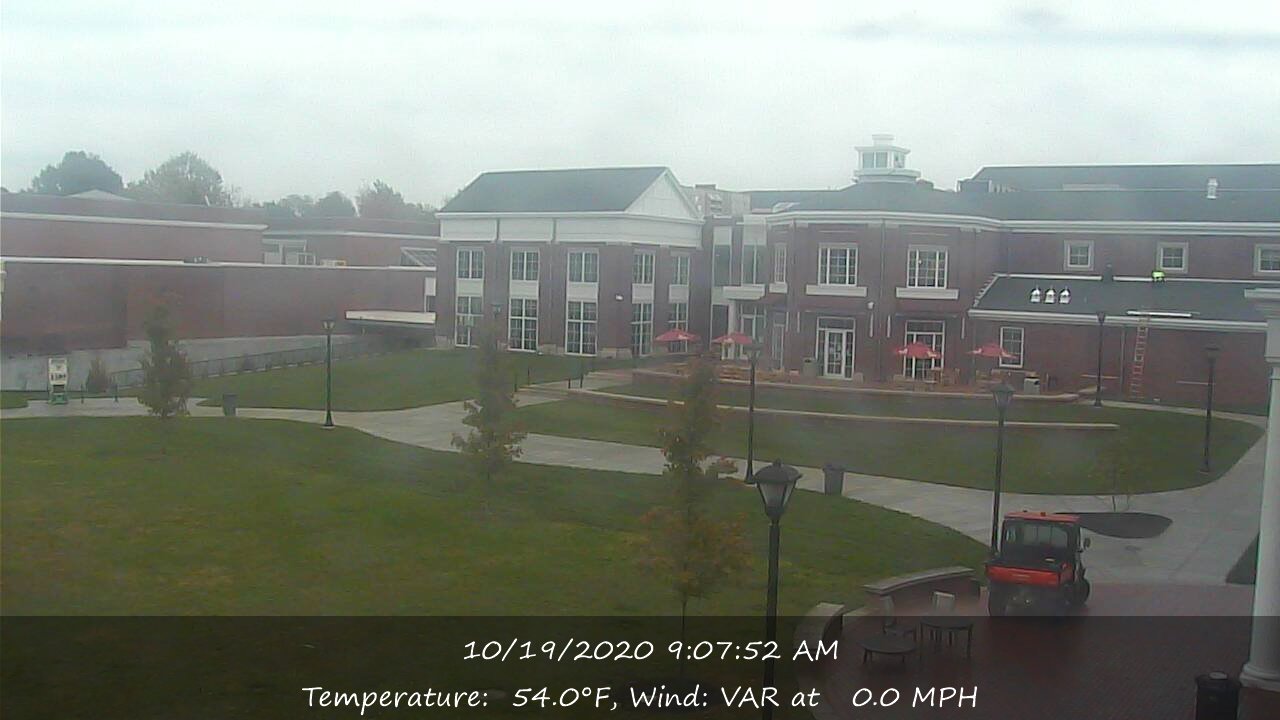 Transylvania's new, $29.6 million campus center, which is being funded through private gifts, will offer bright, welcoming areas for student organizations, fitness, student services, dining and outreach to the community. Scroll down to see more about this exciting project.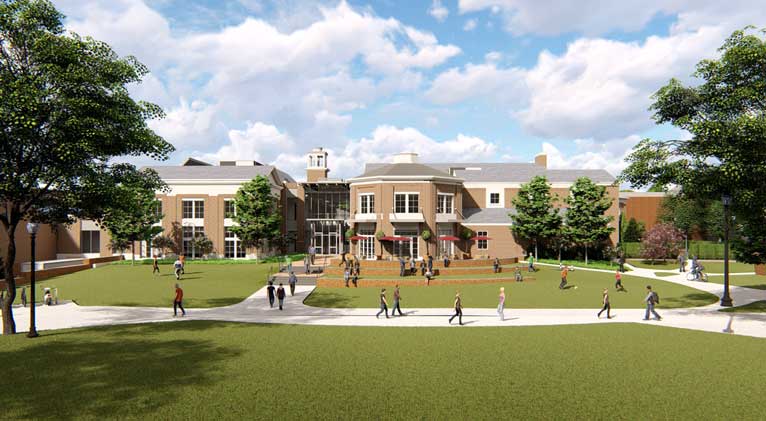 View from Back Circle
Academic success depends on life outside the classroom
We know that a Pioneer's ability to thrive on campus and in life after graduation depends on the caliber of social, co-curricular and personal well-being. By housing all Student Life activities and services in one safe and welcoming place, the Campus Center becomes the hub for health and community.
The Central Walk
A comprehensive student life experience: Mind, Body & Spirit
The new center reflects the changing needs of our student body and allows us to develop the whole person. It's designed to provide areas for group collaboration, community engagement and leadership development and to nurture quiet contemplation, student fitness and confidential health and counseling services.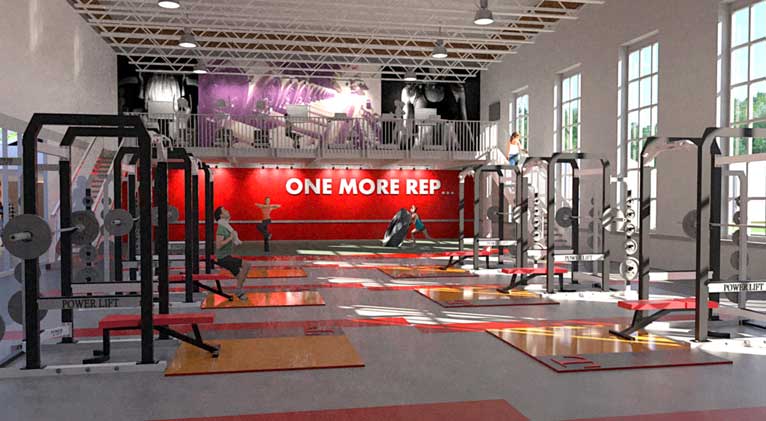 Campus Gym/Natatorium
Two exercise rooms (within easy reach of residence halls) offer different types of equipment for all students to maintain physical health, including cardio and Olympic weightlifting. The open space design gives us the flexibility to expand resources for our students for decades to come and easily supports our target enrollment of 1,200.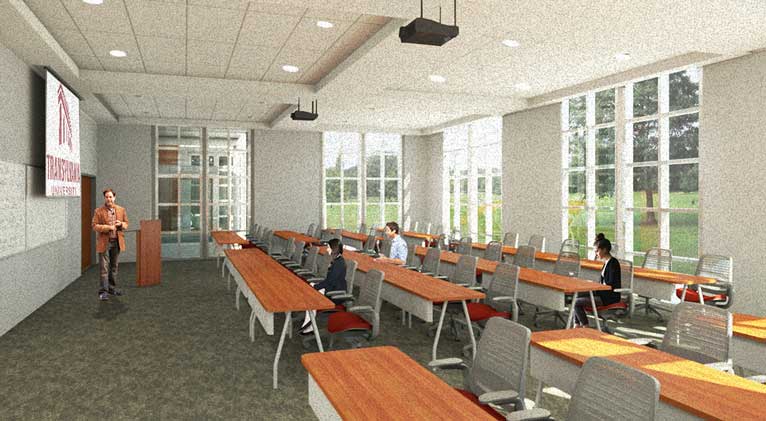 Meeting Room
Room to gather, lead and build community
Expansive meeting space will help answer the need of Transy's 50+ campus clubs and organizations. No more missed opportunities or trying to squeeze large groups into Conference Room A.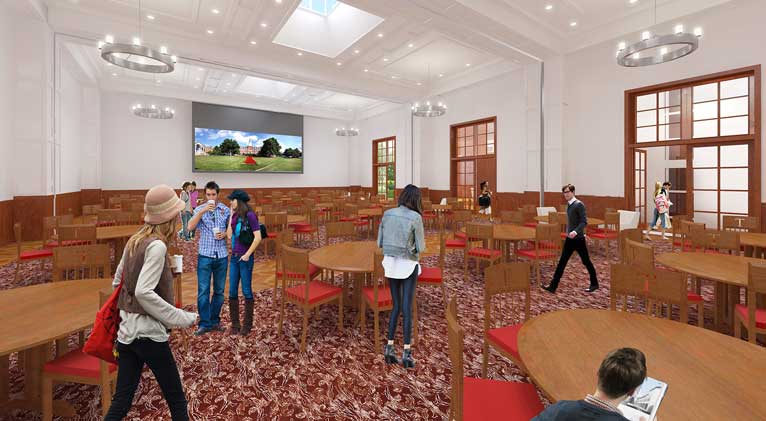 Event Space
Adaptable event space
Inspiring spaces facilitate learning and leadership beyond the classroom. This is the space we need to come together, host programming and invite outside speakers to share their ideas with us.
The new, flexible event space can serve four groups of 75 or be combined in 2, 3 or 4 sections to accommodate up to 300 people.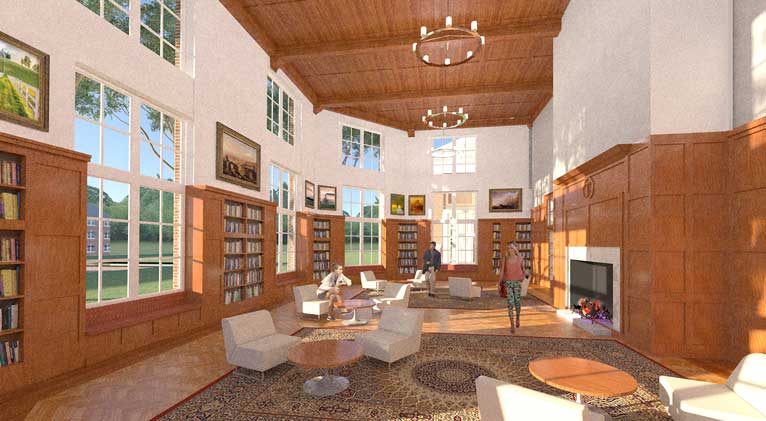 The Living Room/Hearth
Home & Hearth
This is our campus living room, a game-changer for Transy. It's an inspired, uncommon space that gives our prized sense of community a true home.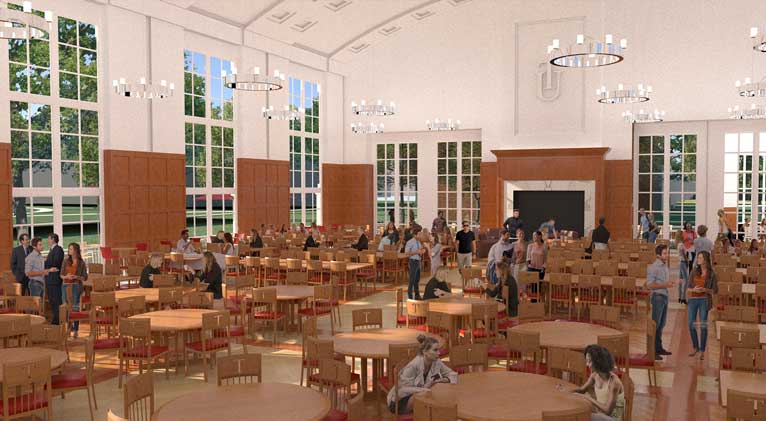 The Great Hall/Café
Expanded dining options
The "Great Hall" seats up to 450 and, with a separate servery, will remain open and available for students to gather and study 24/7.
Other dining spaces include outdoor terrace seating, a Café and the President's Dining Room.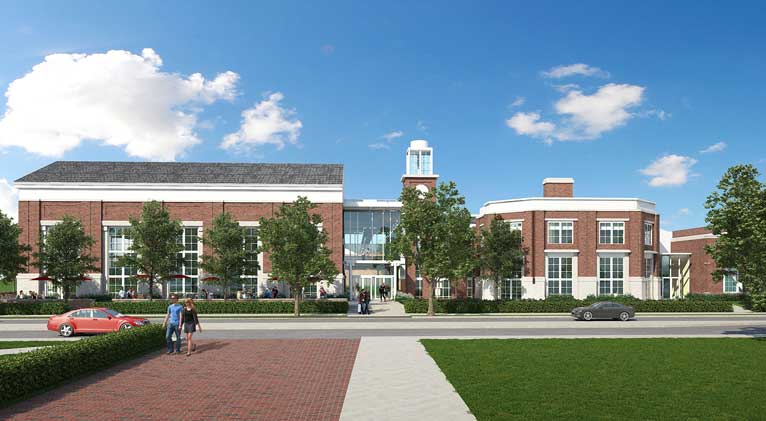 Campus Center Entrance on Broadway
Building a holistic experience
This high-performance, multi-purpose facility honors Transy's architectural tradition and showcases our commitment to every aspect of evolving student life.
It connects seamlessly with recent construction of our state-of-the-art residential and academic facilities, and anticipates the demands of the coming decades.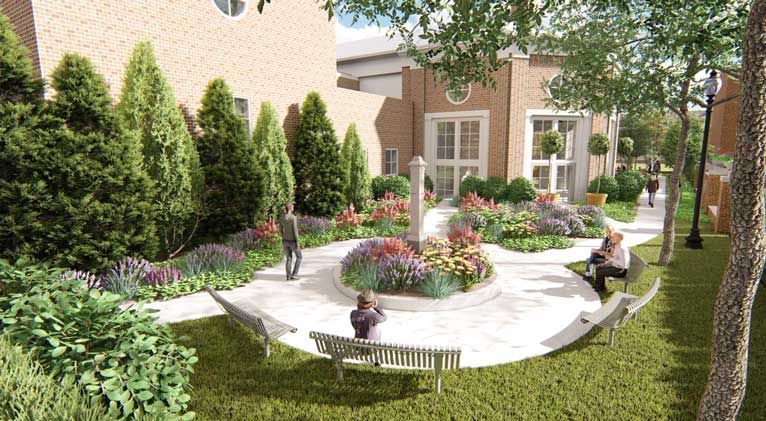 Contemplative Garden
In that light we pass on the light
Above all, the new Campus Center shines with light, hope and opportunities for illumination. We're bringing in the light so that Pioneers may succeed in passing on that light.
Large windows flood the indoors with sunlight. Expansive hallways and an atrium connect to outdoor spaces designed to encourage relaxation and reflection.
We're building lives of purpose and understanding by educating and caring for the whole person, experience by experience. Our new Campus Center demonstrates how Transylvania values every facet of campus life: academic, athletic, co-curricular, residential and all of student life.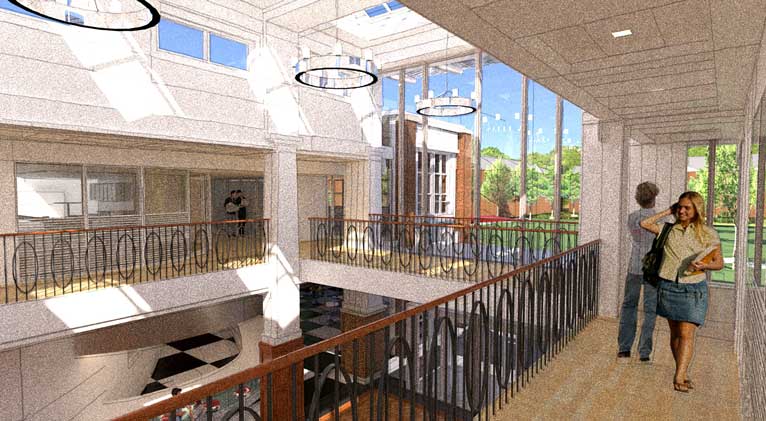 Second Floor Atrium View—Health & Wellness
Help us shine the light
Our world needs thoughtful citizens, passionate innovators, enlightened leaders and an educated, compassionate workforce. This is the space that completes the whole.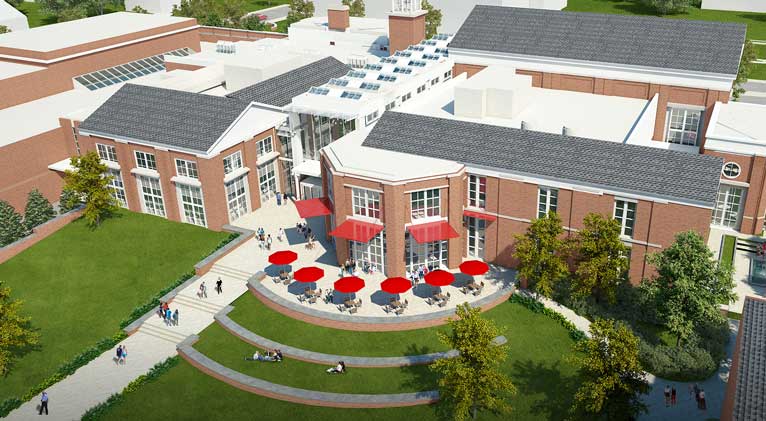 Aerial View of amphitheater and café patio from back circle
We're investing in a Campus Center that makes our students and our university competitive for the future.