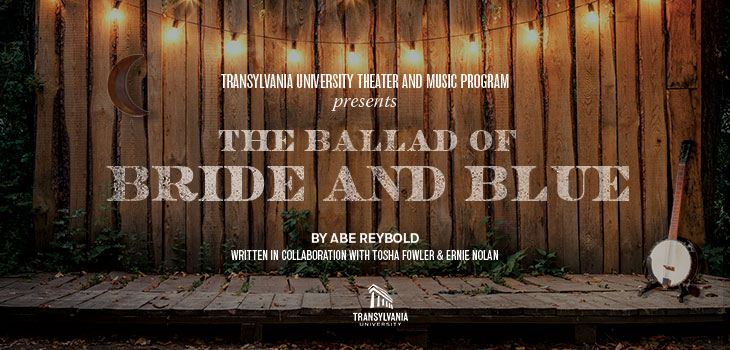 The Ballad of Bride & Blue by Abe Reybold
written in collaboration with Tosha Fowler & Ernie Nolan
World Premiere
Wednesday – Saturday, May 18 – 21 at 7:30 p.m. & Sunday, May 22 at 2 p.m.
In this new folktale with live bluegrass music, star-crossed lovers travel up the mountain and through the valley to teach us all a beautiful lesson about unconditional love and the origins of Kentucky's beloved Blue Moon.
Darkened Doorsteps by Scottie Gussler '23
Thursday – Saturday, Feb. 24-26 at 7:30 p.m.
Sunday, Feb. 27 at 2 p.m.
Little Theater
This new play written by theater major Scottie Gussler '23 is a story of unticking time and what happens when the clocks freeze. When a door opens for teen protagonist Christian, he takes it, leaving the world as he knew it. As he makes his way through a new realm, he meets a cast of characters who help him discover how isolating pain can feel, and the generational patterns of suffering. Overall, Darkened Doorsteps investigates what it feels like to find community in emptiness.
Exit, Pursued by a Bear by Lauren Gunderson
Due to limited seating, performances are selling out. We will begin a waitlist at the box office an hour before the show, and unclaimed tickets will be released to the waitlist 10 minutes before it starts. We hope to get as many people in as possible.
Thursday – Saturday, Nov. 11 – 13, 18 – 20 at 7:30 p.m
Sunday Nov. 14 & 21 at 2 p.m
Little Theater
Directed by Madison Plowman '22 and featuring Eph Page '22 & Alessandra Lundberg '22
In this revenge comedy, Nan teaches her soon-to-be ex a few life lessons with the help of her two best friends. When Simon, a cheerleader, and Sweetheart, a stripper, join forces with Nan, theatrical hijinks mixed with brutal honesty make this a not to be missed event of the fall! Showcasing the talents of our seniors in areas of directing, acting and design.
"It's The Chicks' "Goodbye Earl" meets 9-5."

– WABE, Atlanta's NPR station
Student Theater Guild
Fright Night Play Festival
Friday, Oct. 29th at 7:30 p.m.
Saturday, Oct. 30 at 3 p.m.
Coleman Recital Hall
Transylvania's Fright Night Play Festival features a bright collection of spookily themed five to fifteen minute plays and monologues to celebrate the Halloween spirit of the university. The night will be jam packed with performances, allowing students the opportunity to be the playwright, director, makeup artist, actor and more!