What's Your Pioneer Type? Inventor
Push the limits of creativity
You see the world in unique ways. You can take big ideas and turn them into creative expressions that connect with people on a deeper plane. You are an artist, a critic and a thinker who can bring a community together.
Academic opportunities that may interest you

Theatre Guild,
The Writing Center,
Exhibition in the Morlan Gallery,
Studio 300 Digital Arts and Music Festival,
Digital Art (dArt) Lab,
Podcasting Studio,
Video Capture Studio,
Private Music Lessons,
Art Talks with Visiting Artists,

Campus Organizations You May Be Interested In

American Sign Language Club
China Club
French Club (Le Cercle Francais)
German Club
Sodalitas (Classics Club)
Spanish Club
Student Organization for Latinos (SOL)
Transy Interfaith Alliance
Transylvanian Magazine
Transylvania Choir / Concert Band,/ Jazz Ensemble / Chamber Orchestra / Madrigal Singers

Internship and Career Opportunities

Graphic design at Bullhorn Design
Glassblowing at Weston Glass Studio in Berea, Ky.
Ceramic studio and supply shop at Kentucky Mudworks
Mural painting at ArtWorks Cincinnati
Artistic coordinator at PRHBTN Street Art Festival
New York Stage and Film
Commonwealth Theatre Company
SITI Company Workshop in Saratoga Springs
Athens West Theatre
University of Kentucky Press

Cool Classes

MUS 3034 – Interactive Music and Multimedia
ART 2614 – Integrated Media: Video and Design
IDS 2104 – Creative Disruption
THEA 3414- Fundamentals of Play Directing
CHI 2044 – Chinese Cinema
HIST 2014 Shooting America: Photography, 1860-1960
PHYS 1024 – Measuring the Universe
MUS 2304 – Music Cognition
ART 3024 Community Engagement Through the Arts
ENG 2714 – Jane Austen and Film
CS 3424 – Robotics
SOC 2704 – Social Media, Mass Culture
MUS 2774 History of Jazz/Rock Music
Meet some Inventors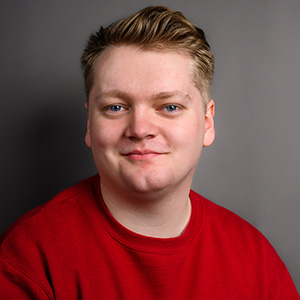 JD Lovell takes every opportunity to express his creativity in the arts, as an active student in choir, band and theater, where he is president of the Transylvania Theater Guild. He's worked closely with his advisors, who helped him to complete majors in theater and accounting as part of a well-rounded Transy education.
I can't overstate how much the theater department has affected my college experience and my growth as an adult. It's about working within limits and coming up with the greatest art you can… Every student on this campus has their own way of making art. Everybody has something to say and something to do.

JD Lovell '20
Sarah Schaaf always knew that music would be a part of her life. The saxophone player received a music scholarship and won the concerto competition in her senior year. But she didn't know her potential as a visual artist until she came to Transy. The studio art major and double minor in history and music represented Transy in a statewide exhibition and, ultimately, defined her future path as a children's book illustrator.
Seeing how much my art has developed over the past four years gives me a lot more confidence than I had coming into Transy. I've always drawn and painted, but I didn't know if I wanted to do that as a career until I came here and took classes that solidified my path.

Sarah Schaaf '19