What's Your Pioneer Type?
Work hard to be your best
There is no task too tough for you to handle. Your energy is contagious, and you relish hard work. You're a competitor, a grinder and a winner. You love being part of a team with a common goal—to be your best.
Academic opportunities that may interest you

Peace Corps Prep Program
Pre-Professional Programs

Health professions: dentistry, medicine, occupational therapy, optometry, pharmacy, physical therapy, veterinary medicine, nurcing
Engineering
Law

Graduate Partnerships

University of Kentucky College of Engineering
University of Kentucky College of Medicine-Northern Kentucky Campus
University of Kentucky College of Pharmacy
University of Kentucky Gatton College of Business and Economics
Marshall University College of Business

Pioneer Leadership Program

Campus Organizations You May Be Interested In

Quiz Bowl Team
Student Athletic Advisory Committee (SAAC)
Chess Club
Pre-Health Club
Pre-PA Club
TU Karate Club
Pre-Dental Club
Fellowship of Christian Athletes
American Chemical Society

Internship and Career Opportunities

Lexington Clinic
University of Kentucky Health Care
Baptist Health Care
Fayette County Public Schools
Physical therapy clinics
Occupational therapy clinics

Cool Classes

WRC 1064 Argumentation and Debate
HIST 2424 Sport in Latin America and the Caribbean
EXSC 3014 Physiology of Exercise
BA 3224 Entrepreneurship
BIO 2454 Genetics
PSY 3244 Health Psychology
ECON 3034 Money and Banking
PS 3264 Human Rights
SOC 2914 Health, Medicine, and Society
PE 25 Ultimate Frisbee
CLA 2024 Spartacus: Slaves and Gladiators
BIO 4114 Immunology
IDS 1111 Service Learning in Guatemala
WRC 2334 Rhetoric of Resistance
EXSC 3204 Nutrition and Energy Balance
Meet some Champions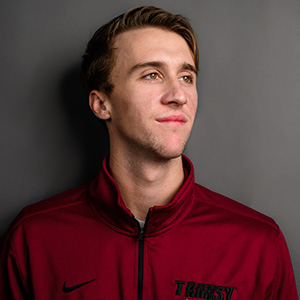 As a sophomore, Hudson Chastain established himself as one of the premier hitters in the NCAA Division III, breaking the Transylvania single-season hits record and earning a spot on the All-HCAC first team. And he's succeeding in the classroom, as an accounting major and history minor, all while preparing for law school.
 Transy does an excellent job balancing sports and academics, making sure they do what's best for the students, which means focusing on academics first. Professors help when you need to juggle class and sports, but more importantly they're always there. Coaches do the same thing — they want you to succeed on the field and in life. 

Hudson Chastain '21
Cooper Theobald isn't your average six-foot-one point guard. The fierce competitor does whatever it takes for his team to win—whether it's leading the Pioneers in rebounding like he did as a junior or by drawing fouls and hitting 29 free throws in one game, an NCAA Division III record. And his determination carries over into the classroom. He's a business administration major with a marketing emphasis and a Dean's List student. Not one to shy away from bright lights, he plans to pursue marketing in an exciting metropolitan area after college.
Transylvania fosters an environment where pushing individuals to succeed and to be the best version of themselves is encouraged by both students and faculty. I have learned how to be a leader while being positive and accepting of others' views and ideas, which has made for effective teamwork both on and off the court.

Cooper Theobald '19