What's Your Pioneer Type?
Take a stand
You are the champion of your community. You fight for justice, for peace, for ensuring everyone has what they need to live a fulfilling life. You care about the world around you and work tirelessly to make it a better place.
Academic opportunities that may interest you

Pioneer Leadership Program
Volunteer Income Tax Assistance
Peace Corps Prep
Community Engagement through the Arts
Service Learning Courses
Pioneer Pathways College Readiness Mentoring
YMCA Black Achievers College and Career Readiness

Community Engagement Opportunities

Animal Rights Alliance
Circle K
It's On Us (to prevent sexual abuse)
Students Against Hunger and Homelessness
thriveTU (mental health and mindfulness)
TEAL – Transy Environmental Action League (TEAL Thanksgiving/Earth Month)
Greek Life – philanthropies
Green Dot Program
London Ferrill Community Garden
Student Volunteer Teams
Saturday-in-service
Alternative Break Experiences
Community Clearinghouse

Internship and Career Opportunities

Teach for America
Greenhouse 17 Domestic Violence Prevention
Muhammad Ali Center
Kentucky Refugee Ministries
The Nest Center for Women, Children, and Families
God's Pantry Food Bank
Food Chain
Radio Eye Services for the Visually Impaired
Legal Aid of the Bluegrass

Cool Classes

ANTH 3404 Sustainable Development
SOC 2524 Social Class Inequality
PHIL 2164 Bioethics
PSY 2544 Stereotyping and Prejudice
ENVS 1024 Environmental Science
EDU 3314 Readings in Peace Education
SOC 2244 Social Problems, Politics, and Policy
BIO 2124 Field Botany
ANTH 3424 Appalachia and the Environment
PHIL 2614 Animal Minds/Human Values
Meet some Advocates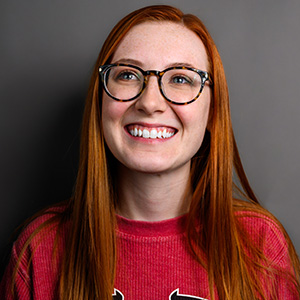 Caroline Hawk has gotten the opportunity to discover and live out her passion for sustainability as a student at Transy. The biochemistry major is involved on campus with the Transylvania Environmental Action League and as a student board member for the Green Revolving Loan Fund, and she researched nanoparticles in worms with the University of Kentucky Department of Plant and Soil Sciences.
Transy does a really good job of giving students a platform to promote their voice… You have a lot of opportunities to get involved and find something you're passionate about. Once you've found that passion, Transy gives you a lot of different ways to voice it, to improve what the campus is doing, what the community is doing. There's an outward impact Transy has on the Lexington community.

Caroline Hawk '21
In his time at Transy, Seth Wyatt has stepped up and into the opportunities presented to him, developing as a leader while serving and advocating for the larger community. As president of the Interfaith Alliance, he is committed to representing all religious traditions on campus and to creating an inviting, respectful space for individuals to share their perspectives. He sees Transy's intimate campus as an exceptional place for opportunities to serve and to build an inclusive, respectful community.
Transy does a really good job of giving students a platform to promote their voice… You have a lot of opportunities to get involved and find something you're passionate about. Once you've found that passion, Transy gives you a lot of different ways to voice it, to improve what the campus is doing, what the community is doing. There's an outward impact Transy has on the Lexington community.

Seth Wyatt '21